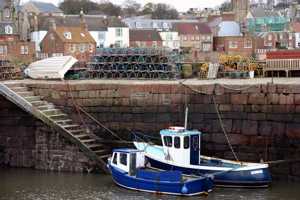 Nothing evokes special occasions like a lobster with drawn butter, but there was once a time when they were considered poverty fare. Fed to orphans, prisoners and indentured servants, lobsters from the Northern Atlantic did not appeal to early colonists.
It took the canning craze of the 1950s to spread the taste of lobster beyond New England, and since then, the red, beady-eyed crustaceans appear on casino buffets and surf-and-turf menus in every state. There's debate now about whether the lobster industry is the best it's ever been or on the verge of collapse, but Maine lobstermen are working closely with marine biologists to develop sustainable practices. It's the older, more labor-intensive, back-breaking ways of early lobstering that will save the industry.

Working on a lobster boat for one hour — let alone one day — will silence anyone who complains about the price of lobster.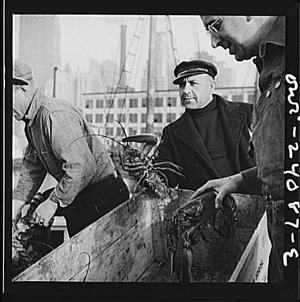 (Library of Congress, WPA Archives)
Lobster Lingo
For those who weren't raised along the coast of Maine, here's a quick primer on lobsters:
Berries – Lobster eggs. Conscientious, law-abiding lobstermen will gently return a berried female back to the water after V-notching her tail, indicating to others that she's a valuable resource. Her 10,000 or so eggs, carried on the outside of her shell, will be released after 9 or 10 months, and of these, about 10 of them will survive. That's 1/10 of 1 percent who even have a whiff of a chance of reaching maturity.
Bugs – Newly hatched lobster larvae. More generally, an affectionate term for all lobsters, as in "Come ovah for dinner tonight for some boiled bugs."
Chicken – A one-pound lobster. It can take as long as 7 years in the cold waters of the northern Atlantic to grow to this size.
Hen – A female lobster.
Cock – A male lobster.
Snappers – Young lobsters, for their tendency to flick their tails frequently
Pistol – A lobster without claws. During molting or fighting, they may lose one or both, but will regenerate them with time.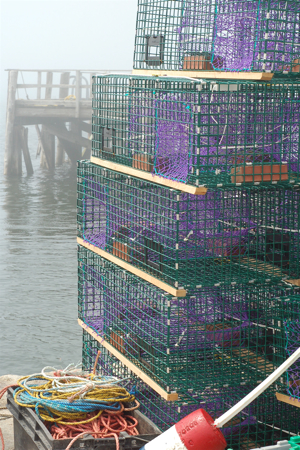 Pot – A lobster trap, especially in great Britain. Though now more commonly made of easy-to-maintain plastic rather than wood, it still attracts lobsters through a one-way entrance. Famously inefficient, they often allow lobsters to walk away after eating. With a stoic shrug of their shoulders, lobstermen accept this as a facet of Maine's de facto aquaculture, allowing younger ones to feed, escape and breed. In the photo (from Casco Bay) you can see the low-tech bricks that weigh the traps down in the water.
Kitchen – The first chamber of a lobster trap, where the bug goes to eat.
Parlor – The inner chamber of a lobster trap. Also known as the bedroom, this is where the bug awaits the lobsterman.
Lobster cars – Crates that are kept buoyed and locked just off-shore to store trapped lobsters until they go to market.
Ghost fishing When lost nets, loose traps or fragments of other broken equipment continue to catch and kill marine life. Modern traps have escape vents constructed from biodegradable materials to allow lobsters to escape from lost traps.


Keepers Lobsters that measure between 3.25 and 5 inches from their eye sockets to the tip of their tails, the legal limits for market.
Shorts – Lobsters that fall below the legal size.
Shedder – A newly molted lobster. It has absorbed sea water into its body, and there's extra space in its soft shell. If you've ever received a gush of water when cracking open a lobster, you probably have a shedder on your plate.
Crusher – The larger, stronger claw with courser teeth. If the lobster's right claw is the crusher, it's called a "right-handed" lobster.
Ripper – The smaller claw, which has finer teeth for cutting and tearing.
"From away" – People like me who are not from Maine. Summer tourists. Well-meaning travelers and diners who triple town populations and clog up Highway 1 in search of lobster.

(Library of Congress, WPA Archives)
Where to eat lobster in the Bay Area
In November of 1920, The Manufacturer and the Builder–"A monthly journal devoted to the Advancement and Diffusement of Practical Knowledge"–reported that California received its first shipment of live lobsters from the East Coast. Layered in a crate with moist rock weed and then packed inside another, ice-lined crate, a little over half of the 600 lobsters survived the voyage.
While overnight planes have sped up the trip considerably in this century, finding a good lobster isn't as easy as you'd think. For the most part, New Englanders stranded in Northern California simply waited between visits back east to enjoy fresh, plain crustaceans, free of wasabi-panko crust or truffle oil or even chipotle butter.
For those who'd like a taste without boarding a plane, there's at least one place you can nurse your bug cravings. It's not quite the same as your favorite shack in Harpswell or Thomaston, but Old Port Lobster Shack in Redwood City boasts the closest thing to Down East eating in these parts. They have sister restaurants in North Beach and Napa, but it's the South Bay kitchen that serves up the better bugs.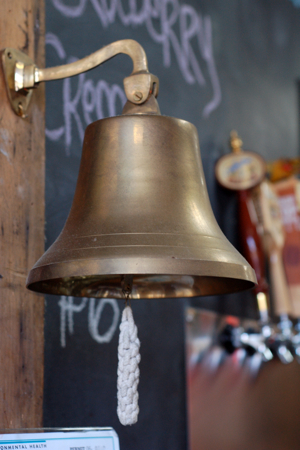 A bell near the register let's the kitchen know when to throw a lobster into the pot. Behind it you can see some of the draft beers from both the east and west coasts you can try: Sea Dog, Allagash, Old Thumper, Anchor Steam, Dead Guy, and Widmer Brothers.

While the sides are not particularly noteworthy (even the dried blueberries in the cole slaw weren't really that great) the OPLS serves lobsters whole and uncracked in all their glory. You could order the lazy version, but why?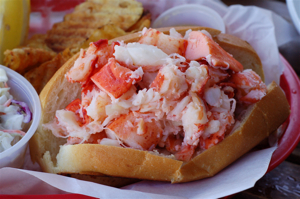 The true find are the lobster rolls, which come with the right bread (baked specially soft for the restaurant) and are packed full of handpicked meat. The "naked" version is the purist's choice; a tiny bit of melted butter and mayo arrive on the side.
Old Port Lobster Shack
Redwood City
851 Veterans Blvd
Redwood City, CA 94061
(650) 366-2400
Napa Valley
806 Fourth Street

Napa, CA 94559
(707) 258.8200
North Beach
532 Green St
San Francisco, CA 94133
(415) 829-3634