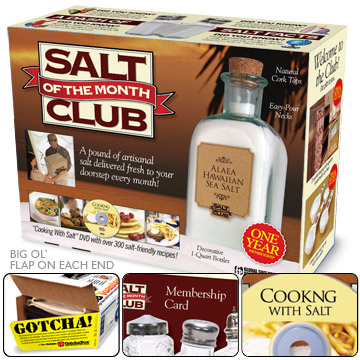 When I was a kid, my mom found an old box that was just about the size of a Barbie display box, stuffed it with thermal underwear, and then sealed it inside Christmas wrapping paper. My mom watched me shake that box ten times a day for two weeks. Peeling back the shiny foil to see plain cardboard and then pulling out itchy long johns forged one of those childhood experiences that's never forgotten. Ever.
Now you can play an equally fun trick on a loved one in your life. From America's Finest News Source comes this gotcha giftbox, perfect for folks who alphabetize their spices or drop words like mise en place, Chez Panisse, and detrimental coffee taste sensations into daily conversation.
I'm sure it works well on parents, too. I can't wait to see my mom's face on Christmas morning.