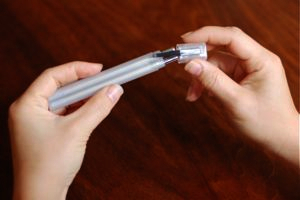 When an old friend from high school picked me up yesterday in her sparkling rental car, we were still trying to decide between taking in a museum or heading toward some fun shops. And when she finally nixed an afternoon of art and culture, I was more than happy to direct her to one of my favorites, Flight 001 on Hayes.
While she lost herself among their beautiful bags, a smaller but equally enticing travel gadget section kept me busy "researching." Some things weren't worth the box they came in—a portable pasta drainer?! — but one item caught my eye. Collapsible chopsticks.
Over the years, I've tried my share of portable, reusable chopsticks. My solid metal ones from Korea, engraved with gorgeous birds and encased in silk, are too heavy, too fancy and too difficult to use (note to self: thin metal sticks + noodle soup = stained shirt). All those cute, little plastic ones from Japan aren't any easier to use and don't collapse. On the other hand, my lovely white ones obtained from that cult in Macau are simply a pain in the ass to assemble.
So, I was intrigued by the petite size and grown-up look of this set from the folks at Kikkerland (who brought us Moleskine notebooks and Pieter Woudt's space-bending Spy Clock). These are my favorite travel chopsticks right now for their elegance, lightness of weight, ease of use while actually eating and relatively low price ($12). The plastic case is slim enough to slip into the smallest pocket and offers a protective covering in case you aren't able to wash your chopsticks until later. I highly recommend a pair of your own, especially if you travel frequently in Asia or if you're trying to cut back on your use of disposable wooden chopsticks here at home.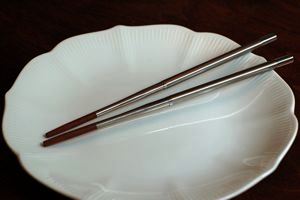 For those who'd like to more about waribashi, those disposable chopsticks invented and much loved by the Japanese, here are some quick facts and interesting links exploring the business, art and environmental impact of the ubiquitous, not-so-innocuous little sticks: