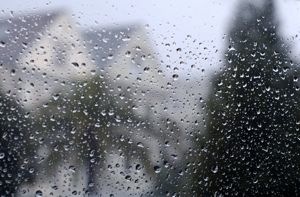 What do you do when the rain won't relent, when those gorgeous bay windows welcome in the wind, and when staying home in your pajamas is not only comfortable but life-saving?
Why, make soup, of course!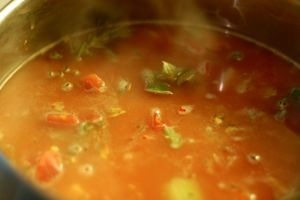 Soup of the Day
Yesterday's soup highlighted a lucky pantry find — a forgotten can of Italian white beans. First into the pot went a lonely though generously proportioned carrot, two stalks of celery, a tight-skinned onion, and the final sprigs of holiday herbs: oregano, thyme, rosemary, and parsley. After these were sauteed to fragrant softness, in followed chicken stock, hand-torn plum tomatoes plus their juices, and those toothsome white beans.
I let the pot simmer for as long as it took to read a few chapters from The Ladies No. 1 Detective Agency. For an extra chapter, I tossed in some leftover roasted potatoes, the last of the red wine jus from the New Year's rib roast, then any and all dark greens hiding out in the fridge. That meant, for this pot, some slightly wilted mustard and a wedge of ever hardy cabbage.
Sense a theme here? A simmering soup pot is the best way to clean out your kitchen while steaming up your windows. Slice some bread, pull out the biggest mugs you have, and — voila! — the best food ever for curling up on the couch.
Mandu Soup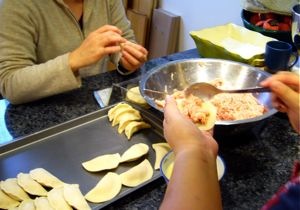 Around now, the first of the year, is also the time to enjoy ddeok mandu guk, Korean dumplings served in a simple broth. My friend Jineui invited me over to her brand-spanking-new kitchen in Sacramento to celebrate the start of a delicious 2008. Her promise to make mandu was all I needed to hop in the car.
Some dedicated cooks still make their mandu dough by hand, but many just buy thick, round prepared potsticker wrappers. (Be sure to look for "potsticker" on the label; "gyoza" or "wonton" wrappers are too thin for the distinctively chewy mandu texture.)
Jineui's filling starts with ground beef and tofu that's been crushed finely between her fingers. She blanches bean sprouts then chops them. She adds minced cabbage, salt, pepper, and not much else. No sesame oil for her ("makes them taste funny"), but she does take time to squeeze moisture out of the vegetables. An egg wash helps seal the half-moons, and then the dumplings go into bamboo steamers lined with cabbage leaves.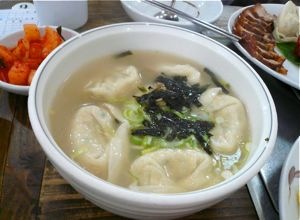 (Photo by Jasmine Lee)
Serve the first batch of mandu straight from the steamer with dipping sauce. Serve the next few batches in bowls of clear stock with a light sprinkling of green onions and maybe some nori or egg strips if you're wanting to be fancy. Freeze the other few hundred or so mandu to eat through the rest of the winter. (I have one friend blessed with a mother who visits once a year and leaves about 2,000 or so homemade dumplings in their garage freezer before heading back across the Pacific.)
You can read how different families ring in the new year with mandu at the Kimchi Mamas. The Asia Society posted a simple recipe from the Korean National Tourism Organization, about as official as it gets for a humble dumpling, but a much more detailed recipe with helpful technique shots and lessons learned from past mistakes appears at My Korean Kitchen.
Oxtail Soup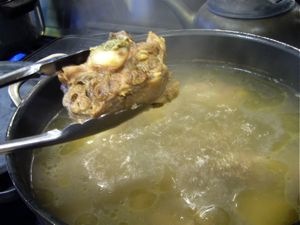 Another Korean treat, ox-tail soup, is as easy as they come: Dump a few pounds of bones in a pot, add water plus a healthy pinch of salt, and then simmer for six hours, three if you're in a hurry. Jineui, always going the extra mile, likes to blanche her bones first for a clearer stock. During their long simmering, the bones give off their milky white goodness into a supremely flavorful broth. Serve with a spicy sesame seed dipping sauce. For those of us who live on the edge (fault lines and BSE be damned!) a bowl of liquified marrow manages to be both comforting and decadent at the same time.
What happens if you leave the pot over the wok burner instead of the special, low-flamed simmer burner? Umm…add more water and know that a few crispy brown bits floating around just means more flavor.
Vietnamese Crab Soup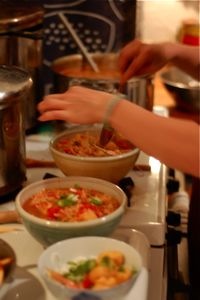 On the more labor intensive side of soups comes one of my favorite Vietnamese dishes. Few restaurants even attempt to offer bun rieu, and a mere handful get it close to right. After feasting on Dungeness, I make broth with crab shells, shrimp shells and pork bones. Tomatoes add brightness, fried tofu offers some chewiness and, for old-school folks like me, cubes of freshly coagulated blood punctuate with silky richness. There's a raft of crab and shrimp bound with egg that hovers over rice noodles. And, finally, there are platters at the table piled high with sprigs of fresh mint and rau ram, chiffonade of cabbage and banana blossom, wedges of lime, tiny but fearless bird eye's chiles, and a dollop or two of shrimp paste to provide those layers of flavor that make Vietnamese food so distinctly fresh and complex.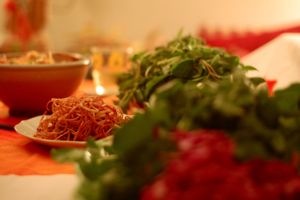 So…what if you don't want to spend a day at the stove? Then head over to Pho King in East Oakland for a proper bowl. Di Da, one of my favorite Vietnamese restaurants in San Jose, an excellent establishment that happens to be vegetarian, also offers a wonderful, satisfying interpretation of bun rieu.
Pho King
638 International Boulevard, Oakland
(510) 444-0448
Di Da
2597 Senter Road, San Jose
(408) 998-8826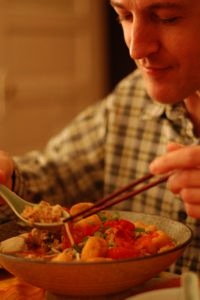 Soupsong
In my last love note to soups, I'm pointing you to the best resource ever for recipes celebratory and everyday, favorite and obscure. I fell hard for Pat Solley the "Soup Lady" a decade ago, while we were trapped in a car among the hills of West Virginia. Her job at the J. Edgar Hoover Building kinda, sorta freaked me out, but her dedication to all things brothy tugged at my heart. Of course, my stomach was never in doubt — Pat knows more about soup history, traditions, tales, jokes and, of course, recipes from around the world than anyone else I've met. It's rare to find someone who can quote Herodotus and Bob Dylan in the same breath while cooking with all four burners going at once. She's now ensconced far away in Paris, but fortunately I keep warm with her Soupsong website and her excellent book An Exaltation of Soups.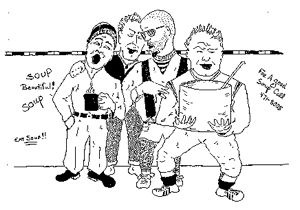 (Illustration by D.C. Bloom)