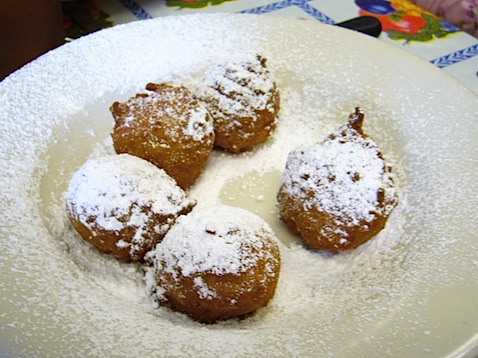 You know you're in a food town when the postcard racks stock recipe cards to mail back to your friends. It's been a long, hot, humid and delicious weekend in New Orleans.
Pacing has been key, of course, from judging just how many blocks a human can walk under intense sun to learning how many meals one can pack into an average day. Thank goodness for brunch to add a nice bite between early breakfast (café au lait and beignets at Café du Monde) and late lunch (roast beef po'boys with extra gravy at Parasol's).
Elizabeth's was at the top of my list, for a single menu item: praline bacon. Suffice to say that shimmering, smoky bacon topped with a crust of brown sugar is a beautiful thing.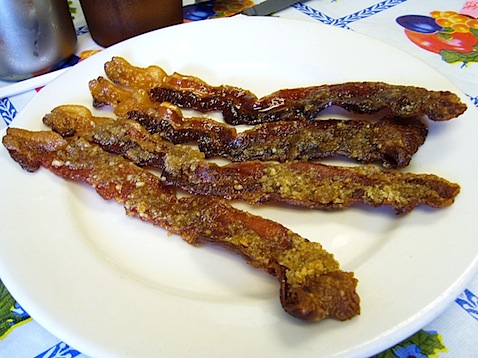 Their crispy, hot calas, however, shined as the true star of the meal. This humble fritter — some leftover rice, a bit of natural yeast, a generous hand with the nutmeg, and a long night of flavorful fermenting – was once a morning staple in the French Quarter. Women in the late 1800s once walked the streets with large, covered baskets on their heads calling "Madame, mo gaingin calas! Beeelles calas…beeeeelles calas, tou cho, tou cho!" Madame, I have calas! Fine calas, fine calas, very hot, very hot!
All you need to finish a still-hot batch of calas is a snowy sprinkling of powdered sugar. Creative chefs, though, have figured out that a crispy round of rice can be the foundation of many other good things, such as poached eggs or fresh strawberries, as well as a carrier of savory bits of wild rice, sausage, mushrooms or duck confit. For Sunday brunch, a Commander's Palace serves a single, large calas smothered with a Creole courtbouillon of Gulf seafood, perfectly poached eggs and Hollandaise sauce.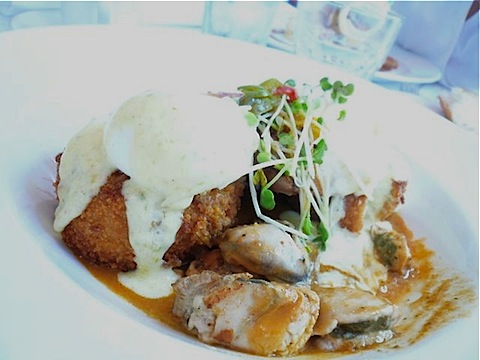 Calas depend on a simple batter created out out of need and ingenuity. Creole women had figured out how to make extra money with cooked rice. There are versions now that use dry yeast instead of natural fermentation, and some call for baking powder, a nod to time-pressed cooks. But for the traditional, distinctive flavor (something San Franciscans with their sourdough know well) letting the calas batter rise overnight is not optional. Danno has an excellent recipe on his blog, NOLA Cuisine.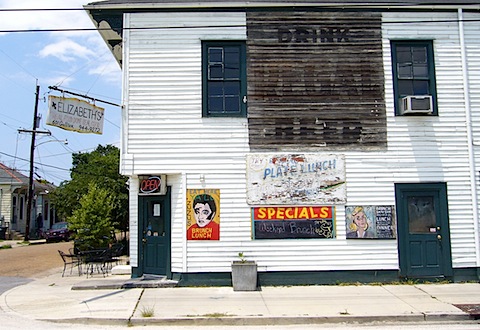 For a taste of classic, ungilded calas, make your way to the Bywater for breakfast or brunch at Elizabeth's. This neighborhood joint, housed in a 100-year-old building next to the train tracks, has comfortable, relaxed dining rooms, and Heidi Trull's home-style, southern specials are a favorite of locals. Meat lovers should not miss the praline bacon nor the beef grillades, tender enough to eat with a spoon and served over creamy grits. A nice rendition of eggs Sardou, a New Orleans original with artichoke hearts, creamed spinach, and Hollandaise, and anything served with their flaky biscuits are also worth sharing. Try, if you can, to save room for dessert. Red velvet, chess pie, and "ooey gooey cake" all beckon enticingly from the glass display case.
ELIZABETH'S
601 Gallier Street (at Charles)
New Orleans, LA 70117 (map)
(504) 944-9272