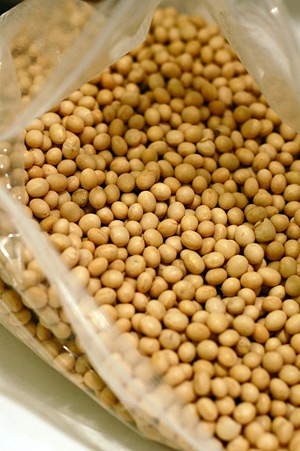 My Midwestern parents live at the epicenter of the soybean industry, but tracking down whole beans still requires a 45-minute drive to the nearest Asian market. We all consume soybean in some form every day, yet few know what the bean even looks like. Tofu has come a long way in the US from its commune days. Yet, it's not that bland, white cube that is behind soy's success. Worth ten times more than a bushel of unprocessed beans, derivatives drive the soy market: soy's emulsifiers, proteins and oils appearing in everything from paint to paint stripper, polyester to protein shakes.
My mother and father's kitchen is decidedly low-tech, but during my recent visit home, they were proudly showing off to me — with wide-eyed amazement as much as parental pride — their soymilk machine. What I thought was a much-needed, new coffeemaker turned out be an all-in-one soybean grinder, strainer and cooker.
Like any proper immigrant's appliance, it still sported all its labels and the manual was nowhere to be found. But my parents were happy to provide a demonstration: load soaked beans here, pour water in there, push the button, and wait…ten minutes. The next thing I know, I can smell that same warm, beany smell that once permeated our house on Sunday mornings. Back then, though, there were big pots to stir, endless batches of blender mush to empty and acres upon acres of cheesecloth to wash. Now, all I had to do was pour out the hot milk and pop a couple of plastic parts into the dishwasher. Welcome to the 21st century!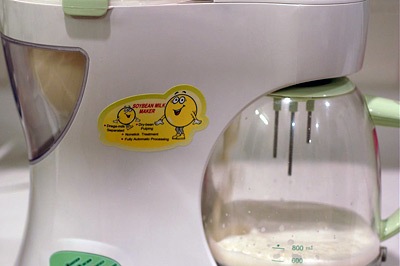 For those of us who grew up with still-warm soymilk, the walls of colorful, aseptic boxes in grocery stores can be somewhat bewildering. I still prefer the unsweetened jugs that are delivered daily to Asian markets, and fortunately for me, I live in a city where I can find it easily. Its flavor is not for everyone, especially those accustomed to ChocoSoy or Soy Frappucino, as no attempt is made to mask its humble leguminous origin.
If your family uses soymilk or tofu regularly, consider investing in a soymilk machine. Or, if you're one of those curious cooks who like to try everything once, making soymilk the old-fashioned way will help you appreciate, deeply, the convenience of supermarkets. Stop by your friendly neighborhood Asian market for a bag of whole, dried soybeans, or order organic soybeans online from Purcell Mountain Farms. While you're at it, purchase some nigiri coagulate in order to have a taste of super-fresh tofu, whose silken texture and delicate flavor have moved devotees to heights of poetry.
TAIWANESE BREAKFAST
Fresh, hot soymilk, sprinkled with a little salt or sweetened massively with spoonfuls of sugar, is a typical breakfast in Northern China and Taiwan. Accompanied with crisp-fried crullers (look for places that fry these fresh right up front in the store-window), it's the perfect combination of comforting protein and filling starch that fuels the first few hours of the day. Try it, along with some dumplings and Southern-style jook, at any of these Bay Area restaurants that specialize in Taiwanese-style breakfast.
Chef Woo Chinese Restaurant
6154 Bollinger Road
San Jose, CA 95129
(408) 255-7520
Google Map
Taiwan Restaurant
445 Clement Street
San Francisco, CA 94118
(415) 387-1789
Google Map
Shanghai Dumpling Shop
455 Broadway
Millbrae, CA 94030
(650) 697-0682
Google Map