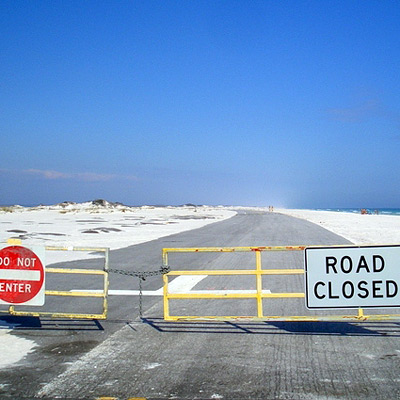 (Photo by brandondesigns)
As summer reaches its August peak (yes, it's foggy this morning in San Francisco) and as families get desperately creative with their staycations, I've been reminiscing about those old car trips of my youth: my mom hopelessly lost somewhere between Denver and St. Louis, my sister and I — oblivious in the backseat — singing "Popeye, the Sailor Man!" over and over and over and over, and our many stops at Church's Chicken and Taco Bell, the two places we were guaranteed to find spicy food.
Remember those days, long before Chowhound and Yelp, Google and Mapquest, when forays into new culinary terrain were truly crapshoots? (Cue up the old-timey nostalgia music…) To find good food in an unfamiliar town, you had to depend on three important tricks: Identifying well-fed locals with a keen sense of direction. Quickly judging a restaurant by the number and types of vehicles parked out front (or be strong enough to enter, scope out the menu and dining room, and then opt to leave a restaurant with absolutely no shame at all). And, most crucial of all, befriending taxi drivers and policemen.
Mom's Mad Skillz
Twenty-five years ago my mom, still shy and still learning English, had her own bag of tricks. She'd stop at a phone booth (OMG–remember those!), heft up the dangling white pages from its metallic tether, and scan the family names for Trans, Nguyens, Lams, Les and Dos. Then she'd invest the quarter or two needed to call up fellow exiles, introduce herself as some stranger rolling through town, and then quickly get to the point: where can I find some good food in these parts?
She recently visited me here in California, and I was reminded of her treasure hunting skills. As one of the last people in this country who still don't have an email account, she depends on the old ways. After we picked her up from the Oakland airport, she wanted to stop for a bowl of pho. We scrambled, with our iPhones and our keyword searches, to come up with a place that would hold up to her standards. While we were still trying to locate a good signal, she pointed us over to a group of people who looked suspiciously Vietnamese standing on a corner of International Boulevard. She rolled down the window and asked them where to eat. They gestured to two pho houses nearby. She asked them point-blank: Which one is better? Without hesitating, they pointed to…Pho Ao Sen.
And to the best bowl of pho I've enjoyed in a very long time. Yes, it's a dirty secret that San Francisco is severely lacking in this department. I've accepted mediocre noodles and, worse, lackluster broths as my penance for choosing not to live an hour south of here.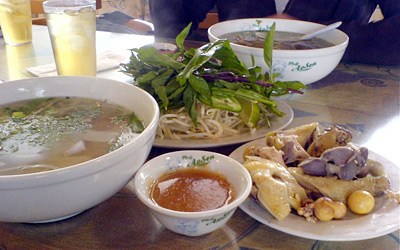 The Whole Chicken
Since pho bo has entered the general lexicon, I won't waste space talking about the beef version. However, I would very much like to encourage you to try pho ga long trung non. Roughly translated, that means chicken and rice noodle soup with innards and young eggs. (Queasy eaters might want to skip the next paragraph.)
If you've ever butchered a chicken, you'll know that along the ovary duct one or two diminutive yolks are awaiting nature's application of egg whites and eggshells. And if you grew up with my mom, you'll also know that gizzards, livers and hearts are delicacies worth fighting over at the dinner table. Even more than a well-executed bowl of beef soup, I admire a restaurant that can create a deeply flavored chicken broth, poach high-quality firm yet tender chicken meat, and present the hallmarks of a freshly butchered chicken: a plate of organ meats and young eggs. Nothing goes to waste, and all the flavors and textures are richly balanced.
At Ao Sen, along with an excellent bowl of pho bo, they've also perfected pho ga. If a plate of innards is not high on your list, order the plain bowl that comes simply with a plate of chicken meat on the bone. Both come with a ginger dipping sauce, whose secret ingredient is obviously chicken fat, so lovely that I ended up slurping it straight from my spoon.
Another wonderful thing about this Oakland outpost is that it opens at 8am every single day of the week. Since pho is a breakfast food, I've always been annoyed by the late opening times in the US. Ao Sen fills a long empty, much mourned gap in my comfort food lineup. Even its airy dining room reminded me of Vietnam, and the familiar fragrance of anise-infused broth that greeted us hit home immediately. Weakly brewed iced green tea, fish sauce on the table, and a straightforward menu all boded well,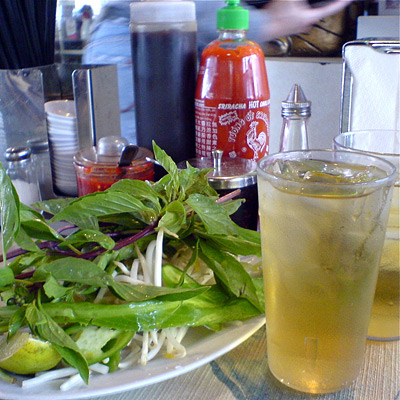 Sharing and Respecting
My husband asked me not to write about this place, as he was afraid of what might happen if the restaurant started attracting people who complained about unfamiliar food culture (someday, I'll write a piece about the unfortunate conflict between Western diners' expectations and Eastern restaurateurs) or who would change the ethnic makeup of the patrons. Call it the Yelp dip. We've seen it happen, and it's always a sad and frustrating thing to accept what success in the US can mean, in the end, for those not centered enough to know their strengths and acknowledge their limits and bravely forge their way between the two.
But I trust that you, dear reader, will enjoy and appreciate and respect this bustling noodle house. I cannot tell you how excited I am that my mother found it, and I look forward to many sated returns. If crossing the Bay Bridge counts now as a road trip, I'm more than happy to start up the car.
PHO AO SEN
200 International Blvd.
Oakland, CA 94606
(510) 839-6821
Map