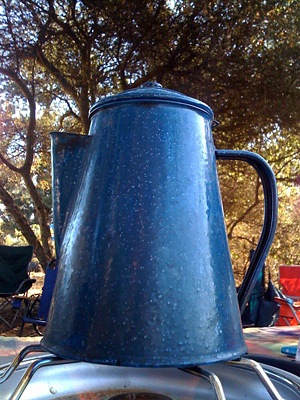 Every Labor Day weekend, Joshua and Jineui gather 30 or so lucky friends for a four-day camping extravaganza by Manresa State Beach. This is not a hardcore outdoor experience — this year, there was a badminton game going near a very well stocked bar and a four-burner kitchen set up within snacking distance of our tents. For the price of an hour of downtown parking, some of us could even enjoy a hot shower. It's definitely more about extreme eating and drinking that any thing resembling "camping," but there aren't too many things that bond people together better than wide, shaded hammocks or Scrabble marathons or jumping and screaming together in the ocean's cold waves.
For months leading up to the trip, I obsessed about what I was going to cook. If any of you had chatted with me in the last several weeks, I would have bugged you for banana-leaf grilling recipes. Fish rubbed with lemongrass and chile and then mummified in fragrant banana leaves? Or a nice Yucatan-style marinade poured on some pork and then all that succulent goodness wrapped up in the leaves? Or cute little packets of gingery straw mushrooms? Or maybe otek-otek?
Then, I realized I just didn't have enough time to hassle with banana leaves.
Then, I saw a sale on wild-caught Gulf shrimp.
Then, I got an email from a PR agency. Did I want to try some new regional recipes from a classic seafood seasoning company? I had just hosted a big Zatarain's tasting a few weeks ago, so I was somewhat curious about how the East Coast classic would compare. I made a point of specifying two tins of each new flavor. But in that funny PR way, a few days later a huge box arrived with a gigantic logo stamped on the side. Inside, a big stockpot. A stockpot that I do not need. In a box that was a waste of someone's time to produce and pack and ship. There was one set of seasonings, even though I had requested two for testing and photography purposes. (This isn't expensive stuff, folks. I'm not asking for two tins of caviar.) And my favorite…there was one pot-holder. Stamped, of course, with a big fat logo.
Okay, for you PR people lurking out there, if you're going to try to woo a writer, especially one who makes a point of keeping a proper distance between the writing and the selling, it's worth thinking through what you're sending. Most cooks, both novice and advanced, use TWO pot-holders when moving heavy stockpots filled with boiling water and seafood.
So, I wasn't able to do any proper testing. But all my camping friends did enjoy the shrimp boil I made, compliments of a failed PR pitch, and one of my friends will receive an almost new stockpot, only slightly charred from the campfire. (Hint #2 for PR folks: be sure your client's logo appears on the most expensive, most durable object in the box.) I adapted the recipe provided to the seafood seasoning company by our very own Franciscan Restaurant, for a "San Fran-style" shrimp boil that can be done pretty damn easily in the semi-wild.
There was intense debate around the campfire about whether all the extra effort was worth messing up a perfectly good, simple, old-fashioned shrimp boil. I noticed, though, that there was not a single shrimp left, and even the fennel — one of those love-it or leave-it foods — was picked clean, so I'd have have to say this version gets the thumbs-up.
MANRESA-STYLE SHRIMP BOIL
When buying shrimp in bulk for cooking in the outdoors far from home, ask the fishmonger for the still-frozen IQF stuff in the back. They're usually sealed in 5- to 10-pound bags that will thaw in 24 hours if packed in a smallish cooler with some beer bottles but no ice. They'll last a couple of days longer if you throw in some ice, too. Prep your veggies and garnishes in advance and bring them along in plastic bags. Make sure you have access to plenty of potable water, a big-ass pot that you don't care about, a long spoon, and some lively embers under a cooking trivet or a heavy grid over flames. And yes, TWO well-insulated oven mitts or pot-holders.
Serves: 24 hungry campers.
Ingredients:
2 big onions, cut into thin wedges
8 cloves garlic, chopped
1 stick unsalted butter
4 cubes chicken or fish bouillon
2 32-ounce cans diced tomatoes
4 14-ounce cans whole artichoke hearts
3 bulbs fennel, cut into thin wedges (stems and fronds reserved)
2/3 cup of your favorite shrimp or crab seasoning mix (stocked by the seafood counter)
Peel from 1 lemon, removed in wide strips
1 teaspoon red pepper flakes, or to taste
1 bottle of dry white wine (optional)
10 pounds wild-caught Gulf shrimp, shell-on
1/2 cup whole parsley leaves
Fresh lemon wedges
Preparation:

Fill a very large stockpot halfway with water.

Add the onions, garlic, butter and bouillon, then bring to a boil. Let boil for 10 minutes.

Stir in the tomatoes with their juices, artichoke hearts, fennel, seafood seasoning mix, lemon peel, red pepper flakes, and wine. Boil for 3 minutes.

Add the shrimp, cooking in two batches if needed, and boil for 4 to 6 minutes, depending on size, just until opaque. Do not overcook.

Stir in parsley and serve immediately: With a large net skimmer or slotted spoon, transfer the shrimp and vegetables to a big, deep platter or directly into individual bowls. Pass lemon wedges.