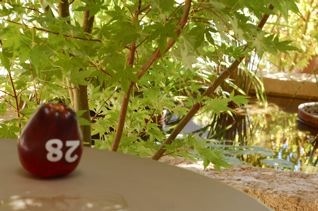 Life's little intersections can reveal deep connections, and sharing a meal is one of the most common ways that happens. A friend visiting from the east coast, John "Taiko Man" Ko introduced me to his drumming friend who invited us to dinner and then, the next thing, I'm learning all about my local community's history and eating amazing food.
Hideaki Nishikura, a baker at Wild Flour Bread, took our intrepid New Yorker and me, along with a doting grandmother and a giggling son, on a personal tour of his hometown, Sebastopol. I feel privileged to have this insider's peek into a little known community and hope to inspire a few of you to take the trek north to visit the town during this time when autumn's colors and flavors are at their peak.
Sebastopol was named after a battle site in Ukraine, during a time when our young nation sympathized a bit more with the Russians than the English. From the mid-19th to mid-20th century, the surrounding farms and orchards depended on the town for all their needs, and to this day, the area is known as the leading producer of the world's supply of Gravenstein apples. Tourism and art play increasingly important roles as small towns learn to survive in the big-box era, but fortunately, a strong sense of place and community make Sebastopol a wonderful place to live for young families.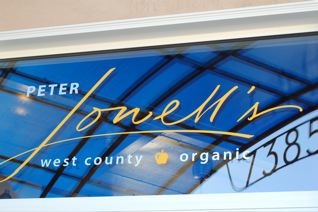 First, we enjoyed a leisurely lunch in one of the generously curved yet warmly enfolding wooden booths in Peter Lowell's back patio. My favorites were the sweet-salty pizza pera with Point Reyes blue cheese and Asian pears from Gabriel Farms and the toothsome orecchiette with mushrooms and bright kernels of corn.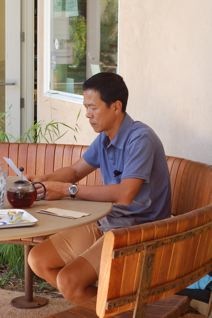 Established by a native son, Lowell Peter Sheldon, it's a casual, comfortable gathering spot in a busy stretch of town. In one corner, an older gentleman reads a thick tome, while out back, kids run up and down, up and down, up and down the see-though stairs and dip their hands into the gentle fountains. Parents relax over pizza, pasta and wine. Friends and neighbors chat by the bar. Dedicated to sustainable food and wine, highly aware of the need to foster a thriving community as well as a successful business, Peter Lowell's is part of a new wave of restaurants serving modern dishes in a fully sustainable (note LEED-certified building and locally sourced menu) yet friendly and accessible way.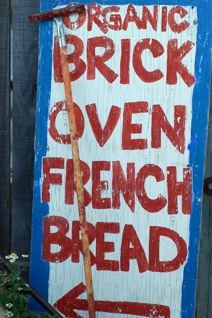 During the afternoon, we stopped by Wild Flour Bread. The well-tended garden in back is open to the public. While Hideaki's son munched on a candied ginger and almond biscotti and introduced our amazed New Yorker to the origins of food — "Is that how berries grow?! Is that how tall sunflowers are?!" — I learned about wood-burning ovens and sourdough starters.
The bakery is open four days a week. Their master baker lives in a one-room log cabin in the woods. Their breads rise only with the power of 100% organic sourdough starter. Their address, on Bohemian Highway, might give away some of their cultural and political sensibilities.
And the simple truth? Their breads are phenomenal.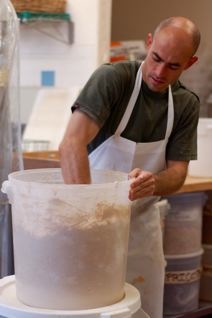 Anyone visiting the area, say on your way to sip wines in the Russian River Valley, must absolutely stop at this bakery to smell, touch and eat.
If you missed the recent weekends of open studios, there's another upcoming event to inspire you to visit Sebastopol. Wild Flour Bread will be laying down a dance floor and, with the help of Freestone Samba, celebrating the bakery's 10th birthday with lots of music, dance, food and fun. Mark your calendars for the big bash on Saturday, November 22.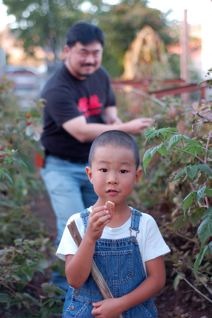 It's a tough time for restaurants and other small food businesses — as it is now for all of us — so I encourage you to support, whenever you can, the places that help make our neighborhoods, our towns, and our communities so richly meaningful.
Peter Lowell's
7385 Healdsburg Ave.
Sebastopol, CA 94572
(707) 829-1077
Wild Flour Bread
140 Bohemian Highway
Freestone, CA 95472
(707) 874-2938