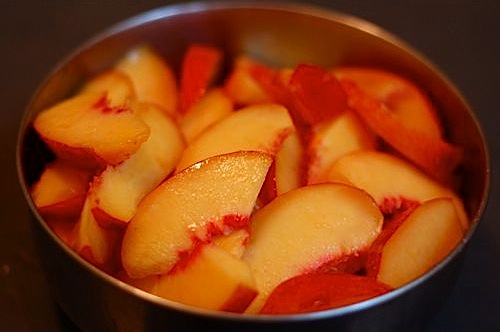 The best summer desserts are simple to make, portable for picnics, and highlight the season's sweet, luscious fruit. Trifle would be at the top of my own list.
While its name might lead you to think that this dish is of little consequence, it belongs in the pantheon of fantastic frugal food, along with panzanella (another wonderful summer dish) and pain perdue (good anytime of the year or day). Back when little bits of bread or cake were far too valuable to toss away, even if stale as a board, cooks invented ingenious ways to use up every last crumb. Dry cake has a way of soaking up endless flavor and, in the process, transforming itself into a silken gift.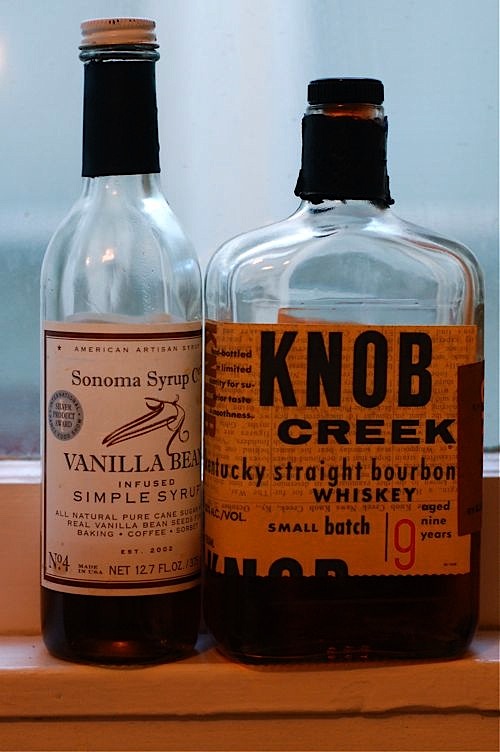 A recent pile of cake trimmings, a bit too much creme fraiche in my refrigerator, and a few overripe peaches, combined with favorite pantry staples, Knob Creek Bourbon and Sonoma Syrup, melted together into a most heavenly dessert. Sherry, amaretto, Cointreau, or even orange juice could have stood in for the simple syrup and booze, but do keep in mind that the English call this Tipsy Cake for good reason.
While trifle properly appears in a glass-footed, straight-sided bowl, making it in a portable container means you can bring this dessert to a picnic to share its goodness.
Following its humble, serendipitous origins, I think it best to avoid recipes when making trifle, as no two will be the same. (Otherwise, you've actually gone out to buy all the ingredients rather than looking around your kitchen for odds and ends to use up.) A quick run to the corner store is fine for one or two, but if you're ticking off every ingredient on the list while at a grocery store, then you've kinda, sorta lost the heart of this dish.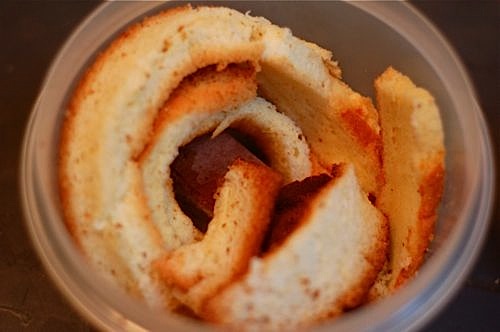 MAKING SUMMER TRIFLE
What you'll need:
Enough stale cake or cookies to fill 1/3 of your container.
Enough fresh, summer fruit to fill another 1/3. If you don't have enough, good-quality jam is good, too.
Enough yogurt, whipped cream, mascarpone, creme fraiche or similar creamy ingredient to fill the final 1/3.
Booze or juice sweetened gently with simple syrup or sugar or jam.
If desired, flavorful gilding such as vanilla, citrus zest, fresh herbs or cocoa powder.
Like a lasagna, it's all about layering and eyeballing. The most important steps are making sure the cake gets brushed with plenty of liquid and that it's in direct contact with the creamy diary. That's how it will melt into lusciousness. If you're fancy, you can take extra time to arrange the fruit into colorful layers, like those sand-filled souvenirs you see at truck stops.
Finish by smoothing the top with a creamy layer. You can reserve a few pieces of fruit for garnish later, or enjoy — like I do — that lovely expanse of white that magically hides so many layers beneath.
Now comes the tough part: waiting. The trifle needs its beauty rest just like we do. A four-hour nap in the fridge will bring together the ingredients, but eight hours is what it really needs, if not a full-on, twelve- to twenty-four hour deep sleep. After that, a few serving bowls and spoons are all you need to serve and enjoy.