Just a mile from the skyscrapers of downtown Pasadena lies a tiny plot of land that has become the heart of an urban homesteading movement. The raised beds of the Dervaes family farm cover 1/10 of an acre. Imagine the area from a football field's goal line to the very first 10-yard mark, or if you're an average suburban homeowner, scan your backyard. Now, imagine harvesting 3 tons of organic food from this short span of soil every year.
Robert McFall's documentary, Homegrown, is an intimate family portrait that reveals both the visionary inspiration and the resolute dedication required to grow one's own food. For Jules and his adult children, Justin, Anais, and Jordanne, the Dervaes farm began as an experiment to see how much of their own food they could grow. A natural extension of the father's experience during the back-to-the-land heyday of the 60s and 70s, their gardens soon led to living off-the-grid. They catch rainwater and recycle grey water, keep animals for manure and collect oil from nearby restaurants to produce their own biofuel. They order hand-cranked appliances from Amish catalogs. They put up their own green beans and illuminate their home with a self-reliant mix of olive oil lamps, biodiesel lamps, homemade candles, daylighting and the occasional fluorescent bulb.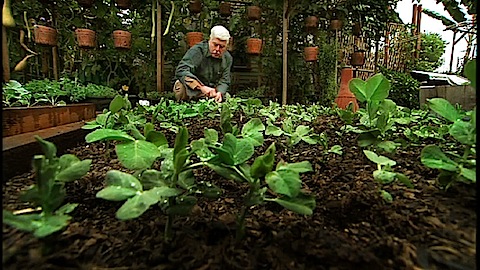 Jules speaks of how we can save the world by taking care of our six inches of topsoil. Like farming, living off the grid began as a political statement and personal challenge. It has since grown into an integral part of their working farm. His children have absorbed his lessons and, like him, have chosen to make it a way of life.
The film includes the usual scenes of the family picking and eating ripe tomatoes from their garden — a trope of any story remotely related to sustainable agriculture. What distinguishes the kitchen and dining room scenes in Homegrown is the image of the Dervaes repeating this meal day in, day out. In a country where one's teen years are simply an extended, fight-filled countdown to the freedom of flight, it's astonishing to see all three grown children living and working so closely, so contentedly alongside their father. Organic, locally based, and ecologically sound agriculture requires huge amounts of labor. We often forget the "family" half of the equation in family farming. Watching older and younger generations working together is a reminder that there are still deeper cultural changes required for a truly sustainable society.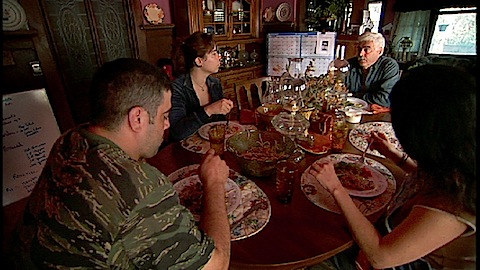 After a meal at their table, we're invited to sit in on one of the family's operational meetings. Here, the reality of business collides with the purity of the Dervaes' ideals. An extended discussion about accepting advertisements on their website highlights the challenges of making real-world decisions while pursuing deeply philosophical and political goals. With over 4,000 visitors each day,PathToFreedom.com could bring in significant income. The opportunity to make an additional $10,000 a month on a farm that grosses under $40,000 a year cannot be dismissed, and the debate marks a milestone for the family.
Jules fears that once they walk the path of easy money, they'll never return to the hard work of farming. His children, the ones who design, code and maintain the website, believe ads are a minor concession: why shouldn't they benefit financially from the enormous amount of experience gained through their own hard work and offered so long for free? The thought of ads, even for supportive seed companies they favor, visibly pains Jules. The younger generation is respectful enough to allow their father to override, for now, their willingness to take on a bit more of capitalism's gloss as their homestead matures into a profitable business.
It's obvious that there will be many more meetings and delicately balanced debates about the future of the farm. Building their client list, gathering a strong community of supporters, making wise choices, growing their business as purely and sustainably as the delicate lettuces they harvest, and establishing new homesteads in turn for each of the children–it will be a lifetime of growing and learning for the Devaes family. Homegrown is a privileged gaze onto that rare, difficult journey.
UPCOMING SCREENINGS
Sunday, October 11, 1:00 PM
CinéArts at Sequoia
25 Throckmorton Ave.
Mill Valley, CA 94941
Map
Tuesday, October 13, 6:45 PM
Christopher B. Smith Rafael Film Center
1118 Fourth Street
San Rafael, CA 94901
Map
San Francisco Documentary Film Festival
Saturday, October 17, 7:00 PM
Thursday, October 22, 9:15 PM
The Roxie Theater
3117 16th Street
San Francisco, CA
(415)-863-1087
Map