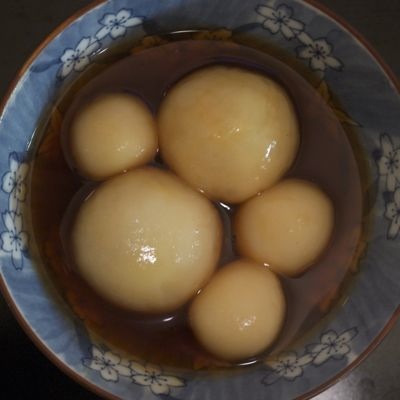 The Lunar New Year, or Tet as my peeps call it, brings with it many favorite dishes. Fatty pork and sugar dominate the holiday table, harking back to a time when ingredients fat and sweet were much more difficult to obtain, precious to use, and delightfully rare to enjoy.
While I can now buy a 10-pound bag of sugar and an equal amount of meat for less money than a couple of movie tickets, the most traditional new year's dishes are still special for one resource that does remain valuable: time.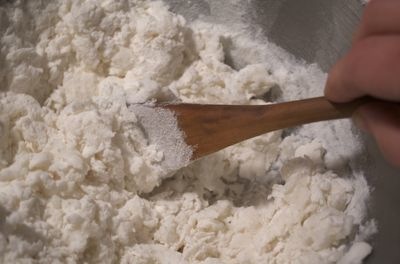 Soi Nuoc is one of those meditative, celebratory foods for me. It means, literally, Sticky Rice in Water. Unlike the Chinese, the Vietnamese can be rather literal and unromantic when naming their food. No matter. Who needs fancy language when you have in your hands a beautiful bowl with pale, round balls of chewiness floating in spicy-sweet ginger syrup? Inside hides a spoonful of rich filling: black sesame seeds or red bean paste or golden mung beans bound with lard. (These days, butter or oil makes a fine substitute for those of us watching our pork intake.)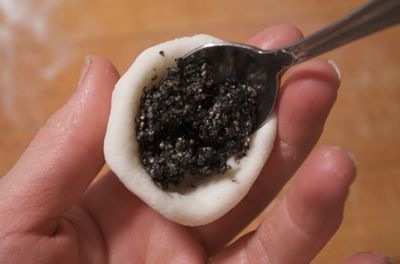 Each perfect dumpling evokes purity and completeness. It celebrates the return of the festive, fertile full moon. It embodies the richness and sweetness of life. The sweet rice dumpling even inspire poets, such as the famed Ho Xuan Huong, an 18th-century Vietnamese woman famous for her intimate, elegant verses:
My body is white and my destiny round,

I float and sink, water and mountain.

Hard or soft, I depend on the skills of

the person who kneads me.

Despite everything, I always keep

a consistent heart.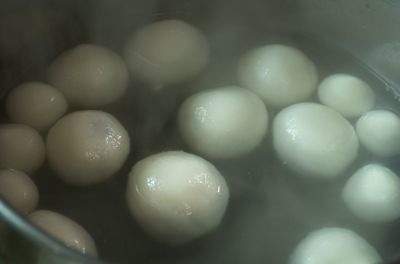 In China, where they're known as yuan xiao or tang yuan, the dumplings are traditionally served during the Lantern Festival, which falls on the 15th day of the 1st lunar month. During an especially important season, the festival comes on the first full moon of the new year and marks the end of the new year festivities. Here in San Francisco, this is typically the time when the Chinese New Year parade winds its way up the streets of Chinatown. The dumplings are also enjoyed throughout the year at many dessert houses throughout the Bay Area. Look for them on menus at your favorite Chinese restaurant or boba tea house.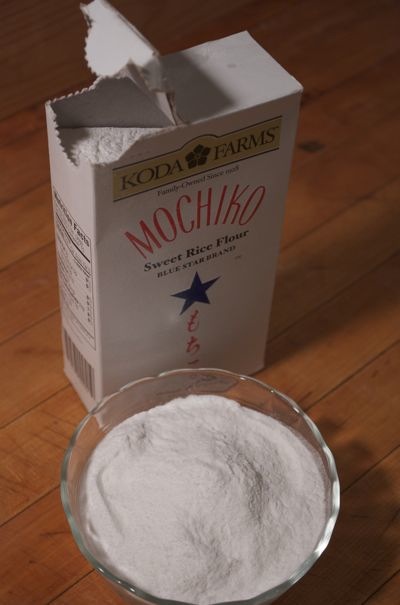 The recipe for soi nuoc is very simple. You can buy finely ground glutinous rice at nearly all Asian markets (look for California's own Blue Star Mochiko, produced by the Koda family in the San Joaquin Valley since the late 1940s). You'll need just a handful of other basic ingredients, a friend or two to help roll, several more to eat, and — most importantly — a break in your routine to enjoy the simple, sweet things in life.

GINGER SYRUP
1 1/2 cups sugar

2 cups boiling water

3 inches ginger root, peeled and crushed
In a small, heavy pot, melt the sugar over medium-high heat. Swirl for even melting, but do not stir to avoid crystallization. When the sugar is a dark amber, remove from heat and pour in the water — take care, as it may splatter. Stir to melt the sugar completely. Add the ginger, return to low heat, and simmer for 10 minutes.
Alternatively, dissolve dark brown sugar in water and simmer with the ginger for 10 minutes. Don't tell your mom.
Remove the chunks of ginger and set the sauce aside.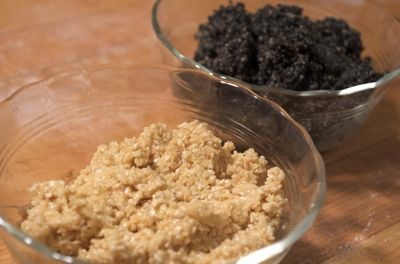 SESAME FILLINGS
1/2 cup white sesame seeds

1/2 cup black sesame seeds

6 tablespoons lard or melted butter, divided

4 tablespoons sugar, divided

Salt
Toast the sesame seeds separately, taking care not to scorch them. In a mortar or pestle, blender or mini food processor, combine the white sesame seeds with 3 tablespoons butter, 2 tablespoons sugar and a pinch of salt. Puree to a thick, coarse paste. Transfer to a small bowl. Repeat with the black sesame seeds. Set both aside.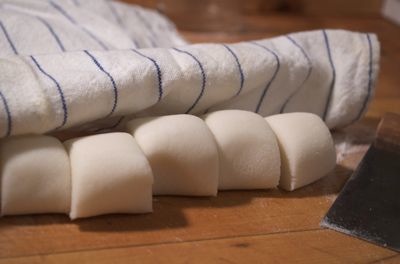 SWEET RICE DUMPLINGS
2 1/4 cups glutinous rice, plus more for kneading

1 cup very hot water
To make the dough: Place the rice in a large bowl and make dimples all over the surface with your fingers to encourage faster incorporation of the water. Pour the water evenly over the surface of the rice in a spiral, then immediately stir with a wooden spoon to mix into a shaggy dough. Transfer to a clean surface and knead for about 5 minutes to obtain a smooth, soft dough. Sprinkle lightly with additional rice flour, if needed, to prevent sticking to your hands or to the work surface. Roll the dough into a long log, cut into 24 pieces, and set aside, covered with a moist cloth.
To form the dumplings: Roll each piece of dough into a ball, flatten slightly, and then pinch up the outer edge to create a small bowl. Place about 1/2 teaspoon of sesame filling into the center, then gather up the side and pinch together to seal tightly. Roll again between your palms, pressing gently, to create a smooth ball. Continue with 18 of the pieces. Cut the remaining 6 pieces of dough into 4 smaller pieces, then roll each of those into a compact ball with no filling.
To cook the dumplings: Bring a large pot of water to a boil. Add the large, filled dumplings and boil for about 5 minutes. Add the small, unfilled dumplings and continue boiling for another 2 to 3 minutes. The dumplings will float to the surface of the water as they cook. Turn occasionally to keep them moist and evenly cooked.
Remove them from the water with a slotted spoon, place in a bowl of cold water to rinse away excess starch, and then transfer to the ginger syrup. Serve in individual bowls, mixing large dumplings with small ones and drizzling generously with the syrup.