Okay, enough with all the pho.
I think it's time for folks to try some other Vietnamese dishes. There are hundreds of snacks and soups, both in Vietnam proper and in Little Saigons around the world, but for reasons I'm still trying to understand, both restaurateurs and diners settle into predictable menus.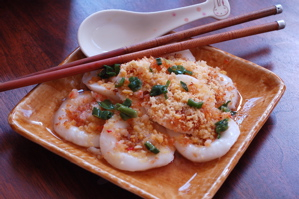 Savory bits of shrimp, mung beans and scallion oil top little steamed rice cakes.
Continue reading "Banh Cuon & Banh Beo: Vietnamese Steamed Rice Treats"