My husband and I were sad when Mahesh moved south to Santa Clara. No more midnight Scrabble runs, no more weekend hikes that end with naps in the sun. But you can't blame a guy for falling in love, buying a beautiful home, and starting an adorable family. Luckily for me, the happy couple still invite me to their dinner parties. One of the most memorable (and delicious!) was a chaat party where they filled and dipped and served an endless stream of pani puri.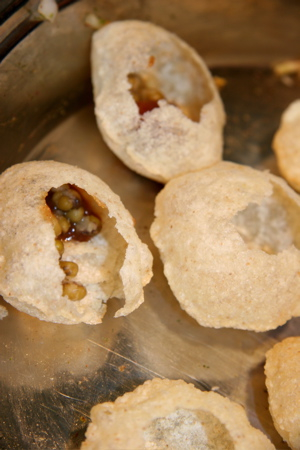 Each puri — a pastry shell that fries up hollow — is gently thumb-popped to create a bite-sized receptacle for layers and layers of zesty fillings. That night's version included lentils and chile sauce. Other recipes might incorporate potato, chickpeas, tamarind syrup, or yogurt.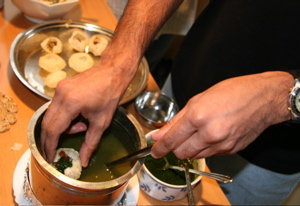 The pani "water" picks up green color from fresh cilantro and mint. After filling the shells, our host dips each one in the pani and hands it to the next person in line.
For those who want a bit of kick, a splash of Mahesh's secret ingredient adds some depth to the tamarind water.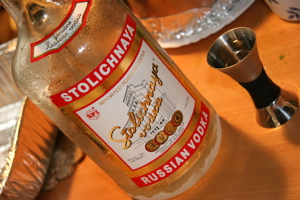 The fun part is eating the pani puri in one, big bite! Through trial and error — and many ruined shirts — I've learned the trick is to lean forward slightly while enjoying each one.
The crispy shell, the blast of herbs, the chile zing, and the tamarind's sweet-tartness make eating pani puri my own modest vision of heaven.
My favorite places to eat pani puri in between Mahesh and Amolika's chaat parties:
Chatpatta Corner
The best, hands down, because Sunite Sharma fries her own puri on site! Not to be missed if you're driving through Fremont: take the Decoto exit, head west one block, and then look for a nondescript strip mall in the shadow of a Jack in the Box. Go with lots of friends, and be prepared to have your pani puri served to you one at a time, just like in India.
34751 Ardenwood Blvd.
Fremont
(510) 505-0400
Vik's Chaat Corner
This favorite in Berkeley has expanded beyond it's original dining room, a good thing for hungry diners eyeing lucky folks with tables. Their market next door is the place to stock up on spices, pickles, basmati and green mango. Or, for your own party, buy all the ingredients you need to serve up pani puri at home.
724 Allston Way
Berkeley
(510) 644-4412
Chaat Cafe
A popular lunch spot that is closer to campus and includes other vegetarian dishes on its menu.
1902 University Ave.
Berkeley
(510) 845-1431
Dhasaprakash
With a touch more formality, this restaurant presents chaat in "small plate" fashion but retains its heart.
2636 Homestead Rd.
Santa Clara
(408) 246-8292
Real Ice Cream
Remember to save room for the amazing ice creams.
3077 El Camino Real
Santa Clara
(408) 984-6601