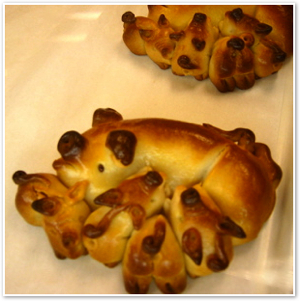 With only one week left before the Lunar Year 4705 begins, there's still a lot to prepare. I need to finish everything by February 18, the beginning of a particularly auspicious Year of the Boar. Some of the more important items on my TO DO list…

– Scrub, dust, mop, and wash everything from floor to ceiling.
– Invite my first visitor of the year. Alex (my smart, successful, super-nice doctor friend) moved to L.A., so I'll have to find someone else to carry luck and prosperity into my home.
– Prepare banh chung from Andrea's hardcore, traditional recipe in her new cookbook, Into the Vietnamese Kitchen: Treasured Foodways, Modern Flavors. It's four pages long and includes instructions on how to make your own mold. We've already exchanged some notes on our favorite techniques and ingredients (remember the pork fat!) as well as some major no-no's (forget the green food coloring). If I'm feeling flush, I might even try makinbanh tetre difficult shaped banh tet.
– Fill every room with flowers. Stop at the SF Wholesale Flower Mart for good prices on quince blossoms, forsythia boughs, bright red gladioli, narcissus bulbs, and bamboo.
– Call my mom to ask for her recipe for caramel daikon pickles.
– Buy new clothes for the new year.
– Pick up the polymer plates, mix up some pink and red inks, and finish printing our Tet cards.
– Track down one of those mommy pig sweet buns at a Chinatown bakery.
– Relax and enjoy the start of another wonderful year!