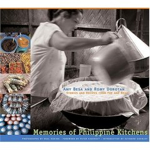 Yesterday, I attended the best cookbook event ever. Book signings are now more a professional obligation than a fun diversion, but I'm very glad I stopped in at the Bayanihan Community Center to see Amy Besa and Romy Dorotan. This wasn't your usual book event. Grandparents brought their grandkids, and Tagalog was spoken unabashedly. The tastings were generous—I enjoyed thirds on those adobo ribs—and there was much laughter in the air. Their discussion and demonstration were a powerful reminder of the way sharing recipes, memories, and food keep a community together over time and distance.
Amy and Romy's book, Memories of Philippine Kitchens, has been years in the making, and once you open the covers, you understand immediately the amount of time and effort that went into gathering the stories. It's a rare example of a cookbook that encompasses geography, politics, culture, oral history, and excellent recipes in a book that is as beautiful as it is generous and loving. Publishers Stewart, Tabori & Chang did an excellent job with it; they allowed Amy to include the region's complex history, a multitude of photos, and a voice centered in her own community's experience rather than bent toward explaining her cuisine to non-Filipinos.
The book has sold out in nearly every store around the world, from Manila to London to San Francisco. Managers tell of readers standing in their store aisles, crying over the book. Its deep resonance with the Filipino diaspora speaks of the need for this book. Long overdue, Memories of Philippine Kitchens is the harbinger of a wider appreciation of a much misunderstood cuisine.
The husband and wife team opened their restaurant, Cendrillon, in Manhattan in 1995. Amy had fled Manila just weeks before martial law was declared in 1972, and in their youth, they were activists in the international Philippines political movement. Romy's passion for food, however, led him to work in restaurants. It wasn't long before they decided to open their own restaurant highlighting Southeast Asian cuisines and then, of course, to begin writing this book.
If you're not familiar with Filipino food, then you're in for a treat. The fresh seafood; the fruity sour flavors that assert themselves again and again; and the amazing variety of noodles, soups and desserts—Filipino cuisine is one of the most fun to explore. Generosity at the table is a hallmark, and the laughing, singing and joking that accompany any gathering adds their own unique flavor to the food. Three dishes that any serious food lover must experience: a piquant peppery adobo, a kinilaw made with the day's catch, and a communal pot of sinigang.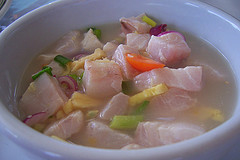 Kilawing Tangigue: Generous amounts of ginger and scallion spike this fresh-from-the-sea kinilaw, one of the native dishes of the Philippines. (Photo by Bing Ramos)
The islands—over 7,000 of them—are home to centuries of intertwined communities. Native hunters, Chinese and Arab merchants, Malay empires with Muslim rulers, Indian laborers, and Spanish colonists followed by American soldiers have all left their mark on the country's culture. Revealing history in the kitchen, the cuisine itself reflects this pastiche of influences.
Northern and Southern California are home to the largest concentrations of Filipinos outside of Manila. From the first sailors who landed in Alta California to the Central Valley's agricultural workers, including Philip Vera Cruz, co-founder of the United Farm Workers, their history is integral to the successes of this state.To learn more about the history, culture and cuisine of the Filipino community, visit:
Arkipelago Books
1010 Mission Street, San Francisco
(415) 553-8185
One of the city's gem of an indpendent bookstore, this packed space stocks any book ever written about the Philippines or Filipino Americans. I visit regularly to check in on their wonderful cooking and food section, which has hard-to-find books such as Beyond Rice (Maria Elena Paterno- Locsin), a stunningly beautiful book on the traditional cultivation of this important crop, and Kinilaw: A Philippine Cuisine of Freshness (Edilberto N Alegre), an essential cookbook for any seafood lover. Another great find is the CD collection of Bay Area classical guitarist, Florante Aguilar, playing harana, traditional Filipino courtship serenades.
Bistro Luneta
615 Third Avenue, San Mateo
(650) 344-0041
A modern setting for Filipino cuisine, Bistro Luneta blends traditional flavors with contemporary techniques. While other Southeast Asian cuisines also appear on the menu, this is the place in the Bay Area to taste Filipino cuisine at its most vibrant.
Patio Filipino
1770 El Camino Real, San Bruno
(650) 872-9888 or (415) 810-9882
The menu at this restaurant highlights the Spanish influence on the country's cuisine. The house specialty is Paella Valenciana, but there's also an impressive list of sinigang soups and dishes with favorite ingredients, including kangkong leaves, milkfish, duck eggs, and pork in all its many yummy incarnations. They have a catering service, definitely worth trying for your next feasting event.
The Filipino American Arts Exposition
Dedicated to preserving and presenting Filipino arts and culture, the FAAE hosts the annual pistahan celebration at Yerba Buena.