In this age of Google and Wikipedia, it's easy to forget the joy of getting lost for hours deep in the stacks of a three-dimensional library. To entice you back to these important anchors of our community, here's a short list of culinary exhibits and events worth adding to your list of food adventures:

READING AMERICA: Reconstructed Books by Mary Marsh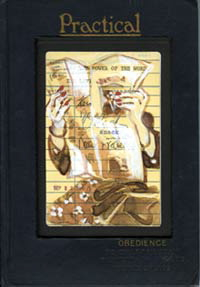 "Snack." Mary Marsh, 2004. Coffee, ink, gouache on found book.

Head to the airy, sunny sixth floor of the San Francisco Main Library to find a wonderful exhibit of new work by artist Mary Marsh. Using comfort food as an analogy, Marsh explores the intersection of eating and reading. Discarded books and old library catalog cards (remember those?!) find new lives with bits of linen tape, layers of gouache and coffee as ink. Marsh explores issues of privacy, consumption and narrative with these evocative creations. Her artwork will be on display at the library galleries though April 5, 2007.
While you're at the top of the SF Main, visit one of my favorite local resources: the Koshland SF History Center. If you can't make it there in person, it's almost as fun browsing their amazing photo collection online. Their "Picture This" series includes a line of serious-minded, long-aproned butchers at the Stadium Market in the Sunset District (1935), a proud baker at Dianda's Bakery in the Mission (1980); and a birthday party in the Western Addition, when Japanese-American families still flourished in the neighborhood (1938).
San Francisco Main Library, 6th Floor
100 Larkin Street, San Francisco
(415) 557-4400
TASTE MATTERS: The Role of Food and Drink in Jewish Culture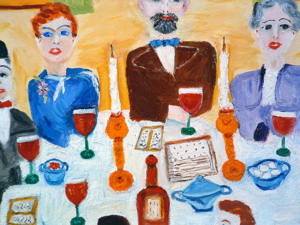 Detail of "Pesach" by Mary Thorman

The Magnes Museum, a stately building tucked in the foothills of Berkeley, has launched a series of cross-disciplinary presentations of gastronomic narratives in Jewish culture. These intimate gatherings are open to the public ($8 for nonmembers) and offer a valuable resource both for those attempting to understand their own heritage and those trying to learn more about the history of an important but largely invisible group. Last week's conversation with Eleanor Kaufman from UCLA highlighted Eastern European homesteaders keeping kosher under harsh conditions on the plains and utopian farming communities, such as Petaluma's chicken and egg producers, that succeeded for a brief period in the early to mid-20th century.
On May 31, Alisa Braun from UC Davis will discuss the depiction of Jewish foods in films, and on August 16, Benjamin Wurgaft from UC Berkeley will show how food writers, both Jewish and non-Jewish, shape perception and identity.
In addition to its ceremonial, decorative and modern art collections, the Magnes houses an excellent research library for scholars of Jewish history and culture.
Judah L. Magnes Museum
2911 Russell Street, Berkeley
(510) 549-6950
ALICE STATLER LIBRARY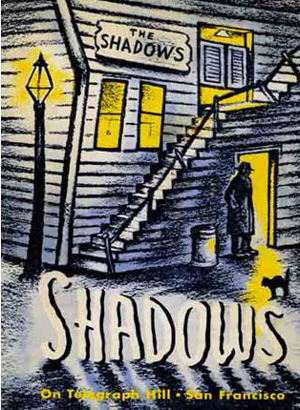 The menu cover from a 1930s "Bohemian" restaurant near Coit Tower.

To support its stellar culinary arts and hospitality program, City College maintains a reading library of books about food, restaurants and anything remotely related to the history, culture, science, politics and business of cooking and eating. Their periodical collection alone could occupy a dedicated cook for years.
Though nearly everyone in the Statler Library is wearing chef whites, it's open to the public. You're welcome to read for hours whether you're browsing for random discoveries, honing a research topic or filling up on glossy food mags.
You can also enjoy the library's beautiful menu collections online. With their covers and inside pages lovingly scanned, the menus highlight restaurants across the nation as well as concessionaires at the 1939 World's Fair in San Francisco.
Alice Statler Library
City College of San Francisco
Room 10, Statler Wing
50 Phelan Avenue, San Francisco
(415) 239-3460