At last week's Maker Faire I ran into a few of my favorite food artisans. In place of single-estate chocolate or the minute's freshest fruit, though, their ingredients were felt and yarn, circuit boards and LEDs.
What happens when you fold together San Francisco's cult of craft with its love of all things sweet or savory? And what if you spice it up with a dash of Silicon Valley's geeky, cheeky inventiveness and a generous dose of Burning Man bravado? You get a robot who mixes cocktails and you get the Dorkbake Challenge, where inventors present their original designs for working ovens heated with a 100-watt lightbulb.
It was a fun, unexpected reminder of how much our taste buds spark our creative cortex. Here are just a few highlights…
Zipping around the San Mateo Fairgrounds were big, bright cupcakes. A double-take confirmed that they were, indeed, giant sweet confections rolling on wheels with one, sometimes two, human occupants. They were capable of turning on a dime and generating smiles wherever they appeared. Surely the best use of old, motorized wheelchairs and fuzzy fabric ever.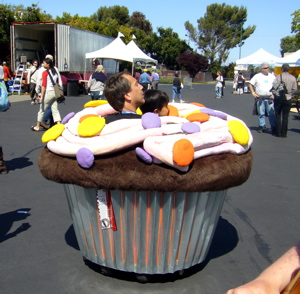 How to travel in sweet style.
There were a couple of muffin mobiles thrown in for good measure, but even the antioxidant-rich blueberries couldn't compete with chocolate or pink frosting.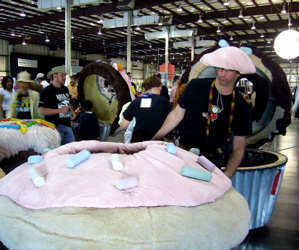 Don't forget the extra frosting and sprinkles for protecting your noggin!
If you've been to Black Rock City in recent years, then you already know about Cupcake Corners. Solar-powered cupcake cars are certainly my own preferred mode of transport across desert (dessert?) flats.
I've had my eye on this special meat purveyor for a long time, so I was glad to see their unique pillow cuts on display. Who knew meat could be so squeezable?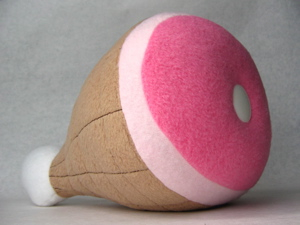 A big, plushy ham, bone still in and rind neatly scored.
Introduced in person to their new protein, I fell hard for a block of sesame-sprinkled tofu. Bean curd appears in my own fridge much more often than a full ham, so I was glad to see the veggie offering.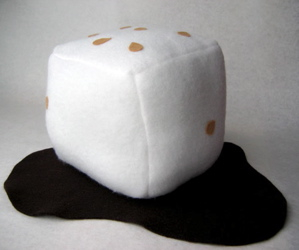 I was also lucky enough to snag the last shrinky-dink charm bracelet, complete with steak, ham AND pork chop.
Moveable Feast
At the Maker Workbench, the Exploratorium and London-based Cabaret Mechanical Theatre joined forces to give kids and kids-at-heart a chance to build edible automata. Learning how gears, levers and pulleys work becomes a lot easier when food is involved. (If only my high school physics teacher had appealed as successfully to my stomach as well as my brain!)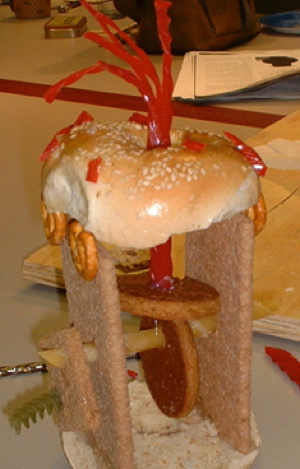 Cookies, pasta, pretzels, Twizzlers and, of course, a bagel become a starchy display of erupting lava.
Nifer Fahrion has gathered an entire family of cute, quirky "Shroommates." Each little character, culled from real-world fungi, has a distinct personality that she's conveyed impressively well with bits of felt, from the easily startled Morley Morel to red-topped Mr. Muscaria, who "likes to hang out with all the fairies that crowd in Dolores Park." There are little 'shrooms for ear lobes or cell phones, bigger ones for sprouting on desktops or bookcases. Cherries, bees, acorn, and happy vanilla ice cream cones are also well represented.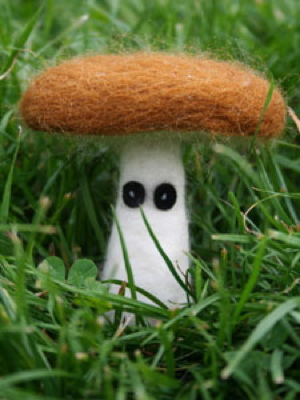 Impish and mischievous, Shorty Shiitake hides out in the grass.