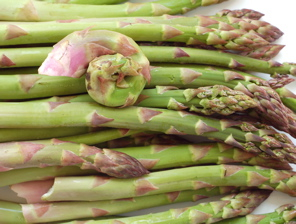 My parents travel light, so when they told me they were waiting at the baggage carousel, I knew some food had made its way from Missouri to California. I've been treated before to freshly dug potatoes, bags of dewy herbs, a catfish with its whiskers still intact, gooseberry jam, homemade beef jerky, and a selection of Kansas City's finest BBQ sauces. As we approached the airport, I wondered what treats we'd be unpacking this time.

Before boarding that morning's plane, my mom had picked asparagus and packed them into conveniently shaped bags stashed from her newspaper delivery. Earlier in the week, when a freeze recently threatened her food supply, she'd covered her asparagus tips to insulate them from the cold. Some of the stalks were caught in the cover and curled into tight spirals. Though kinda funny-looking, they taste just as good.
As anyone who has tried to grow asparagus knows, they are a labor of love. The scraggly crowns require double-dug trenches and lots of compost-rich soil. Asparagus plants take two to three years to begin producing, and once they start sending up their shoots, they require vigilance from the gardener-cook. Reinvigorated after a winter's rest, the ground pushes out those asparagus stalks with astonishing speed. If you forget to pick your 3-inch baby tips before you head off to work, you just might find 12-inch giants when you return later that afternoon, and perhaps a flowering stalk or two by nightfall.
If you have the space, though, it's definitely worth all the coddling and cutting. I can swear to the truth: freshly harvested asparagus that hasn't traveled further than the distance of your yard (with perhaps a quick plane ride carried by someone you love) are as sweet and tender as the heart of spring.
MY FAVORITE WAY TO EAT THE YEAR'S FIRST ASPARAGUS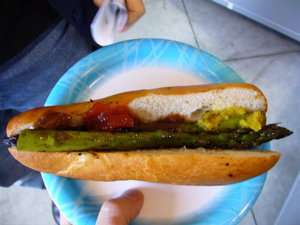 Roll the asparagus stalks gently in olive oil, and then sprinkle with a hint of salt and black pepper. Fire up your grill. While it heats, split a few hotdog buns, preferably the lovely egg-enriched ones from Acme Bread. It's fun to set out a selection of your favorite condiments. Some of mine include Sukhi's tomato chutney, Happy Girl's pickled peppers, basil pesto, or thin shavings of Parmigiano Reggiano.
Once your grill is hot, flash the asparagus just until they show a touch of char at their tips. I like mine with a bit of bite at their stalk ends, but go ahead and cook yours to the point you prefer. With tongs, nestle a few asparagus stalks in each of the hot dog buns. Top with your favorite dressing or condiments, or leave bare and beautiful.
Enjoy.