Coming back to Missouri – the state of my childhood – always means returning to a double life.
While I've come to terms with my family's hyphenated existence here in the Heartland, I'm only just beginning to figure out how to balance the relentless abundance of my mother's kitchen with the city's smoky, seductive barbecue.
Asian moms take it personally when you don't eat their food, even when they make more than you can humanly consume. Leaving Kansas City without eating barbecue, though, is culinary sacrilege. I've learned how to fit five full meals into one day, and still I can't fulfill both my familial responsibilities and the extensive research ("eating") that my work demands.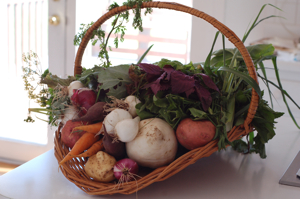 The first thing greeting me at my parents' home: a basket of vegetables pulled and proudly displayed just for me. If you think that CSA box is bad, try throwing away a potato your mother dug up with her own hands.
My mother doesn't have a computer, so I can confess here: I've been known to compost whole, uncooked vegetables and dump pots of soup quickly and quietly. When she asks, I make sure to say, while checking for BBQ sauce on my shirt or under my nails, how delicious everything was.
Fortunately for me, during this visit, my parents left on a trip of their own. Yesterday, I waved good-bye to my mom at the airport and then immediately called my sister for her advice: Jack Stack's? or Oklahoma Joe's?
It's a tough call. Each place has strengths and weaknesses, and only a local can offer proper guidance. Back in my day, as they say, it was mainly Arthur Bryant (for the meat) or Gates (for the sauce). This was before national attention turned each of these KC institutions into overrated marketing machines still running on fumes. Before competition cooking turned pro. Before the Kansas City Barbecue Society was around to offer not just barbecue cooking classes but barbecue judging classes.
My sister, whose ZIP code still falls inside 'cue territory, said I had to try both. But I only had time for one expedition! Back and forth we went. Did I want burnt ends or ribs? Good fries or kick-ass coleslaw? Pulled pork from heaven or beef with integrity? I couldn't decide — I wanted it all. But when she mentioned that Oklahoma Joe's was inside a working gas station…well, that tipped the scale. I'd cross the state line for that.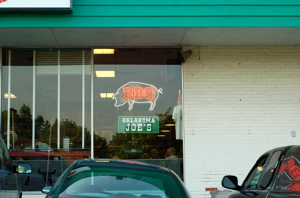 A small neon pig is the only clue that beyond the gas pumps lies a working smoke pit.
Imagine a largish convenience store in which the Icee machines have been ripped out and replaced with spare tables, a few booths, a high counter for cutting meat, and a chalkboard menu.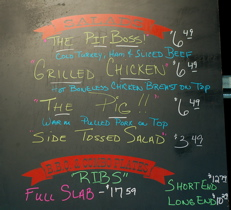 Of the four salads offered, one actually comes without meat. Lettuce with warm pulled pork sprinkled on top impressed even this jaded pig lover.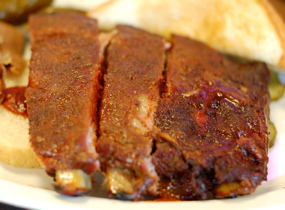 The ribs in all their dry rub glory.

I always get long ends. Always. For those who've never ordered ribs in Kansas City, we like to divide our ribs into long ends and short ends, and maybe, if you're lucky, rib tips. The long ends are from the thin, lean, bony front part of the rack (think about the area beneath your pecs); the short ends are from the thick, meaty, fatty half (think love handles). Rib tips are the burnt edges trimmed off the racks and served to those of us who love smoky, charred, crisp bits of meat. Menus will list different prices for long and short ends, as most people are willing to pay a couple of bucks more for the short ends. As someone who loves gnawing on bones, I'm happy to pay less for my favorite cut.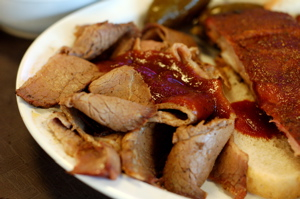 The thinly sliced brisket was amazingly tender.
This time, I was tempted by assurances from my sister's husband that the beef was dream-worthy. I usually don't order brisket when I'm out — too many disappointments and a girl learns — but brother-in-laws are the natural experts of barbecue, so I went with a combo plate of ribs and brisket. My sister, thankfully, ordered the pork sandwich; I'd get to taste some of that, too.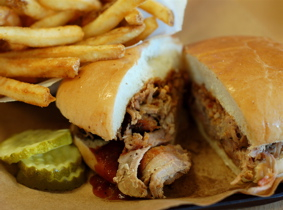 Around here, pulled pork isn't topped with cole slaw. Their spicy slaw, though, is a must-try from the sides menu. I was also lovin' the fries: moist and fluffy inside, crisp and dry outside.
Like many newer barbecue places, puns proliferate, T-shirts are for sale, and sauces come wrapped in gift boxes ready to be shipped anywhere in the world. But unlike many places old and new, at Oklahoma Joe's both the meat and the sauce hold up to the test of taste.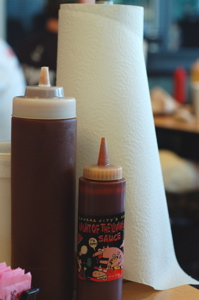 Sauce on the table isn't really necessary, Oklahoma Joe's meat is that good, but you can add a squirt of their "Night of the Living Sauce" if you like some extra kick in your barbecue.
I couldn't finish the ribs or the brisket, so I went back to the counter to ask for a to-go box. While I was standing there I managed to order half a chicken, a quart of smoky gumbo, some baked beans and another helping of that spicy slaw.
I'm planning to live it up while my parents were away.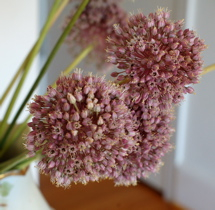 Back at my parents' house, onion blossoms remind me of the garden.
Oklahoma Joe's BBQ
3002 West 47th
Kansas City, KS 66103
(913) 722-3366