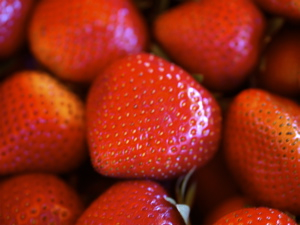 As one of my colleagues said the other day, the farmers markets are "lousy with strawberries." I don't mind the glut, as my own last meal would be a bowl of strawberries, a taste of life short and sweet.
The best way to eat the fruit is whole, out of hand, one after the other until they're entirely gone. There are, of course, many ways to gild the lily: strawberries and balsamic vinegar, strawberries and brown sugar, strawberries and red wine, strawberries and cream, strawberry shortcake, strawberries and rhubarb pie….

If you're driving on Highway 1 just north of Santa Cruz, be sure to stop at Swanton Berry Farm. Next to their U-pick strawberry fields in Davenport, you'll find their Farm Stand. With its old-fashioned honor till, the store offers fresh-made pies, shortcake, cobbler and jams. Everything there is made by the farm's own staff with berries they grow themselves. A flat of sweet, ripe strawberries costs only $15 dollars. They have the best berries around, but there are a couple of other reasons why I support their farm. Swanton devotes itself to strict organic standards, and they employ field laborers who all belong to the United Farm Workers.
The last time I was there, I went a little crazy and got two flats and a blackberry pie. (For non-gluttons: 1 flat = 6 baskets.) Finishing three baskets myself on the winding road back, I macerated a couple more baskets in fresh orange juice for shortcake and then sugared the rest for jam as soon as I got back home. I've learned the hard way that organic strawberries don't last as long as conventional, but making jam is my own way of stretching out their flavor as long as I can.
My cheater's strawberry sherbet is another recipe that I only make when the freshest, sweetest strawberries are coming to market. Food Editor Pasty Jamieson gave it to me over a dozen years ago, while I was her intern at Eating Well Magazine in Vermont, far from California's warm fields. Back then, all I owned fit into three cardboard boxes and one suitcase. I still make this treat every spring and summer because it's so easy and so good. There have been flirtations with fancier versions, like lemongrass syrup or thyme-infused buttermilk, but I've always returned to the flavor of simpler times.
Strawberry Buttermilk Quick Sherbet
Trim calyx leaves from a pint of strawberries and arrange them in a single layer on a tray or baking sheet. Freeze until hard entirely through. Transfer the strawberries to the bowl of a food processor. Sprinkle in 2 tablespoons of buttermilk, 1 to 2 tablespoons of sugar, and a squirt of fresh lemon juice. Pulse until smooth, scraping down the sides as needed. For a softer texture, add up to 1 more tablespoon of buttermilk, and then adjust sweet and sour to your taste. Serve immediately or transfer to an air-tight container and freeze up to a week.