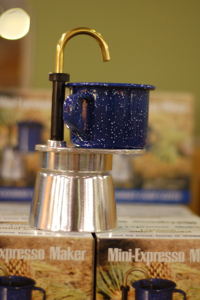 Two weeks of camping has a way of simplifying one's needs. Or, at least, it should. I must admit that I was rather taken with a supply run at REI's flagship store in Seattle. Amazing what we can schlep along with us as essential gear, but gone are the days — thank goodness! — of wet wool, freeze-dried food and heavy tents. And remember the taste of water after sloshing around in one of those metal canteens?
I was more than happy to wander back into civilization as we made our way home. If you're planning a trip yourself to the Pacific Northwest, here are two places worth visiting. I'll post more once I get back to San Francisco, but for now, a taste of my travels….

TOP POT DOUGHNUTS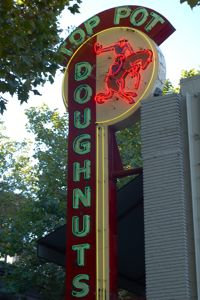 It's only natural that a city obsessive about its coffee would develop a gourmet doughnut chain. Top Pot Doughnut already has three shops scattered in Seattle, and a few more will likely pop up soon. Known for their sleek modern take on the donut stop, Top Pot is a place for lounging as much as dunking.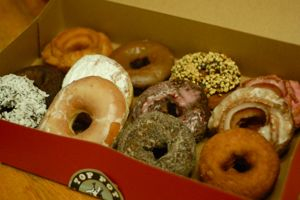 Their downtown location on 5th Avenue has a spacious mezzanine, outdoor seating and an onsite coffee roasting facility. You'll need to get there early in the day for a taste of their famous pumpkin doughnuts and their much-loved, fast-moving apple fritters.
Top Pot leans toward classic interpretations of cake and old-fashioned doughnuts. I ordered a dozen and managed to take two bites of every single one in the box. I loved the chocolate topped with raspberry icing and the old-fashioned frosted, but the good, ol' jelly doughnut sprinkled with powdered sugar won my heart. And yes, the apple fritter deserves all that fuss. Selling out of their "hand-forged" doughnuts isn't a hard thing to do when they taste as good as these.
Top Pot Doughnuts
2124 5th Avenue
Seattle, WA 98121
(206) 728-1966
–
VOODOO DOUGHNUT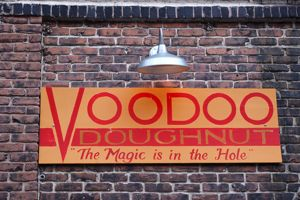 Just down the skid from my favorite bookstore in the world, Powell's "City of Books" in Portland, is my new favorite doughnut shop. If you're in the neighborhood of Burnside and 3rd Avenue, then be sure to stop in at Voodoo Doughnut for the pure glee and fun of it. Where else could you get a massive 10-inch, chocolate-covered Cock & Balls? Or a Captain Crunch Doughnut? Or the incredibly impressive Maple Bacon Bar? The decor is cheeky-grunge, the hours are 24/7, and the revolving donut display will hypnotize you with its colorful promises.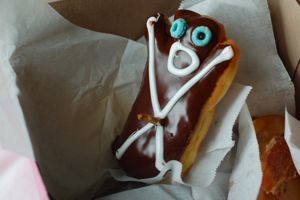 If you have time, you can get married in their wedding chapel or, like me, just settle for a soothing voodoo doll pierced through the belly with a pretzel stick. I can now assure you that biting off the head of your ex-boss is even more satisfying than sticking it with straight pins.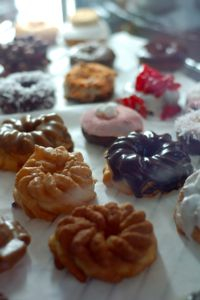 A special shout-out to their collection of vegan doughnuts. Honestly, the only vegan baked good I've ever recommended. As someone who's always trying to figure out how to slip an egg yolk and/or butter into my recipes, this is not a frivolous compliment.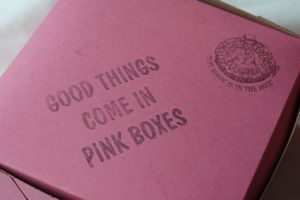 Voodoo Doughnut
22 SW 3rd Avenue
Portland, OR 97204
(503) 241-4704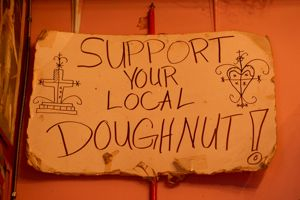 I'll be back in San Francisco in a few days. It'd be great to hear from all of you about your own favorite local sources for dunkers and sinkers. Any suggestions?