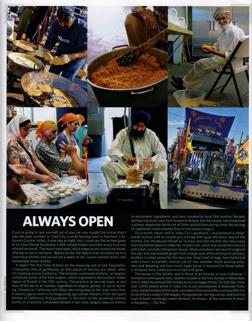 I have a short piece in the current issue of Saveur Magazine (November 2007) about the Sikh tradition of langar, or communal kitchens, and about the annual Sikh parade in Yuba City, CA.
Several of my photos ended up appearing in a colorful montage. A couple of photos from my visit to the Stockton Gurdwara were mixed in with those from my visit to the Yuba City temple.
Actually, there are a few corrections to the edited text, too. For the record:
I don't frequently stop at gurdwaras when I travel. Since my first stay, when my car broke down, I only come to the temples during specific, planned visits.
Taj Kaur didn't introduce herself to me. I had a translator who told me her name.
Not all temples across California reach their peak with the Yuba City parade, which is specifically hosted by the Sri Guru Nanak Gurdwara. Other gurdwaras may take part in the procession, but they each have their own unique, community-based celebrations throughout the year.
I hope that the article inspires you to visit a gurdwara in your own town and to learn more about the fascinating history and generous traditions of the Sikh.