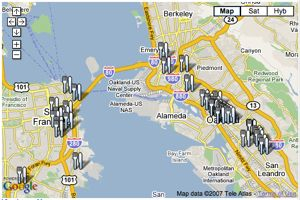 MAPPING TACO TRUCKS
The next time that craving for carne asada hits, check out this new taco truck map for the nearest snack stop near you. It's only a couple of days old, and already, the entire state of California is dotted with promising forks-and-spoons. Help the cause and add your own favorite source for tacos. Then, print out a map of a neighborhood near you and venture forth!
KOREAN BBQ TRUCK
For another take on ambulatory eating, keep an eye out for Seoul on Wheels. I first spotted Julia, a friendly princess hailing from "the Province of Yummi," parked near my office in SoMa earlier this summer and, hardly believing the words splashed across her sparkling truck, crossed four lanes of rush hour traffic to see for myself.
Eating the spicy pork later (she starts selling at 6:45 am!) I'd have to say that first rice bowl wasn't the best I've had. But she's been tweaking her recipes, and the long lines now at lunch time attest to a faithful, hungry, and patient following. Her generous servings of kimchee fried rice will keep you alert through the afternoon doldrums; just be sure you have plenty of mints in your desk drawer. Seoul on Wheels' no-nonsense website lists its regular parking locations and times. If you work or play south of Market, it's definitely worth a bite.