The guests are gone, the dishes done, and there's yet another couple of days before Monday. I can't help staring out my window at all the lovely parking available in our quiet, turkey-sedated city, but I'm avoiding the shops for now. The weekend after Thanksgiving is one my favorite times to stay in my pajamas and catch up on my reading. Forget award-winning novels or the latest treatise about the end of the world, though. For now, it's all about fun and fantasy while browsing lifestyle porn rags like I.D. magazine, blogs like bLavish and the websites of local companies such as rose and radish.
For those of you still putting off your holiday shopping binge, here's a short list of gifts for the lucky foodie in your life…

Drinks in Hand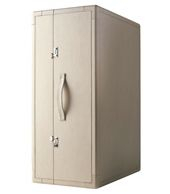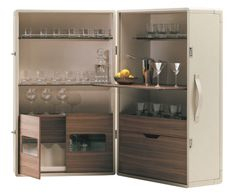 Designer Jean-Marie Massaud created this ingenious, portable bar for the leather company, Poltrona Frau. Modeled after a classic steam trunk, the portable mixing station stands only 46 inches high and has discrete wheels, saddle leather exterior (your choice of 90 colors), walnut-veneer folding shelves, and enough chrome and glass to make it glitter beneath the chandeliers. Call one of the showrooms in New York, Miami or Washington, D.C. to order. $10,400.
Global Service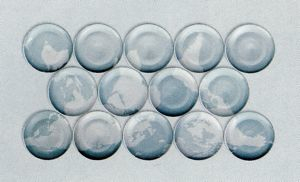 Munich-based
Nymphenburg
commissioned English designer Barnaby Barford for limited-edition, signed tableware to add to their 2007 line-up. His Global Service collection consists of 14 porcelain plates, each showing a different section of the globe. Available in three soft hues: turquoise, green and beige.
Dandelion
on Potrero Avenue might be able to reserve a set of the dinner plates for you, though they probably won't arrive from Germany before the year's end. $10,350 for the complete set.

My Coffee Maker's Bigger Than Yours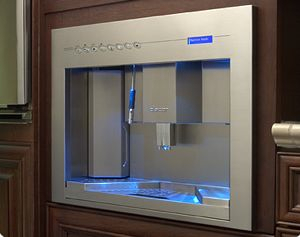 From Dacor in South San Francisco, you can get your very own
automatic coffee system
to install in your kitchen wall. Once it's hooked up to your plumbing system and programmed to your hot beverage specifications, it'll grind, brew, steam, froth, and dispense upon command. It even makes tea and hot chocolate, but my favorite part is the integrated storage for keeping cups and saucers warm.
Siemens
also offers a built-in, fully programmable coffee system. Both companies request that you contact them for prices.
Grill Alert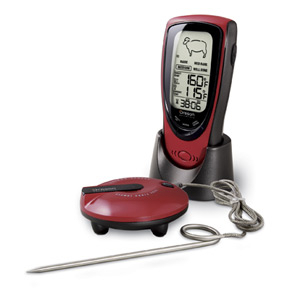 Melding high-tech with the high life, Oregon Scientific came up with a gadget that geeky grill masters of the world can use with pride:
a remote wireless temperature probe
to signal meat doneness. It speaks in five languages, can sense up to 572 degrees F before passing out and can be programmed for all the basic animals: beef, lamb, veal, hamburger, pork, turkey, chicken and fish. As long as you don't wander more than 330 feet away from your grill, you'll be able to hear its verbal alerts of almost ready, ready or overcooked. Batteries not included. $60.
Braising with Bling
This premium quality, gem-studded pan from
Fissler
made an exclusive appearance last month at
Harrod's
in London. The handles weigh in at just under one pound of solid gold and the diamonds number over 200. Your limited-edition pan will come complete with a high-class box made of rootwood and a document certifying exclusive quality. Fissler has already sent an application to the Guinness World Records' office for the "most precious pot in the world." $203,000.
Sinking into Style
To help take the edge off kitchen chores, install one of these laser-cut drain covers in your sink. Brazilian-Isreali designer, Joana Meroz of
Ornamented Life
appropriates flowered lace patterns to help evoke love and romance while you scrape and rinse. While you're at it, get a
nipple-shaped plug
to cover your new, pretty drain. $86.
The Ultimate Dinner Cruise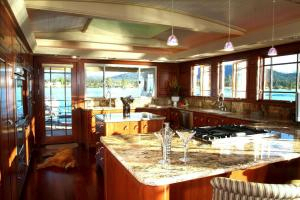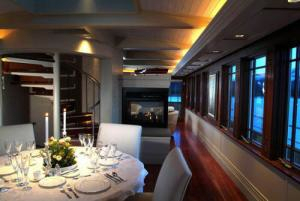 There's a listing right now on Classic Yachts for the Sierra Rose, a 2005 Finney yacht on Lake Tahoe. Though it measures a modest 86 feet, the architects were able to fit in a helicopter landing pad and an on-deck hot tub. You'll be able to zip away from work and relax with comfort and ease. Of course, while you're at the lake, you won't need to sacrifice a good meal: "The Kitchen is a gourmet cook's dream with granite countertops, three ovens, 4-burner Viking range with griddle, four under counter SubZero refrigerator and freezer drawers, ice maker, and two under-counter dishwashers…Storage is provided throughout the kitchen with mahogany-stained, raised-panel cabinets. Entertainment continues at the Stern, where a granite countertop extends from the kitchen through a large pass-through window to the Rear Terrace." Call for a private viewing. Asking $7,000,000.
What's on your fantasy foodie wish list?