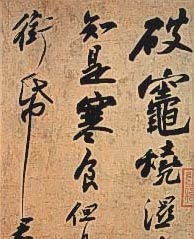 For those who love both poetry and pork, the recitation and the recipe, Dongpo Rou's silken layers hold a potent blend of both. This famous dish of Hangzhou, a city tucked near where the Qiantang River spills into the Yangtze Delta of eastern China, is named for its creator, the celebrated Chinese poet, Su Shi. Also known as Su Dongpo, he gave his name to the much-loved dish.
Stories are still told of how he forgot his simmering pork while playing chess or of the misunderstanding among his servants when he called for pork with wine. He was thinking a nice cup of spirits; they were thinking boozy stew. I like to think that while the pork belly simmered gently in wine and soy sauce and spices, the poet-cook composed or recite an afternoon's worth of verse.
Nicole Mones has written a lovely essay about the lingering ties between the poetry and the pork. Since this is Bay Area Bites and not Bay Area Chapbook, I will let other sites cover Chinese poetry. The recipe, however, is most definitely within our domain.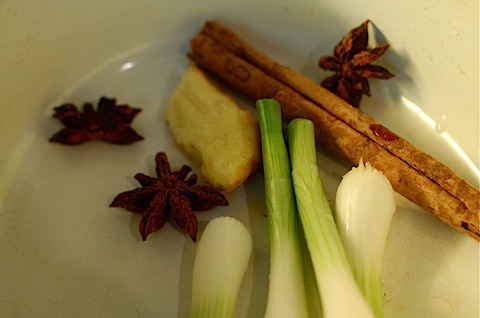 While teaching a writing class several years ago, I had the pleasure of having two students who were in the middle of their own dongpo rou studies. Class discussions about literary metaphors and run-on sentences quickly gave way to debates about judging slabs of pork belly and the precise ratio of wine to soy sauce and which spices should absolutely not be omitted. A friend's father generously walked me through his own recipe a year later. And then this year, after listening to Martin Yan, Olivia Wu, Albert Cheng, Nicole Mones, and Alex Ong rhapsodize about the dish during a panel discussion at the Chinese Culture Center, I realized it was time to embark on my own journey.
Many a Chinese food lover will name dongpo rou among the finest, most difficult, most sublime and most purely enjoyable of classic dishes. I know cooks who have dedicated years to perfecting it in their own kitchen and still bemoan the challenge of coaxing that alchemical melting of the pork's layers of fat and lean, meat and skin. My own explorations have just begun, but like any still-fresh convert, I can't stop talking about my newfound joy. It's like eating pork custard that melts on your tongue. It's like swallowing savory silk. It's what pork will taste like in heaven. (And now you know why I'm not a poet.)
I can't claim native expertise, nor can I say I have settled on my own final, best recipe. But, damn, this stuff is good!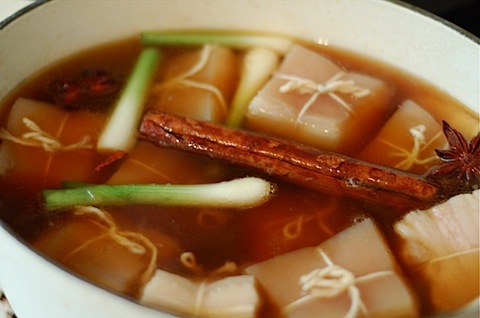 DONGPO ROU
Ingredients
2 to 3 pounds of finest quality pork belly
Half a stick of Chinese golden sugar, or 2 tablespoons brown sugar
4 scallions, white part only
3 thick slices ginger
6 whole star anise
1 cinnamon stick
1 teaspoon fennel seeds
2 to 3 cups chinese wine (I use Shaoxing rice wine aged 8 years)
1/2 to 1 cup stock or water
3 to 4 tablespoons light soy sauce, plus more if needed
Check the skin of the pork belly to be sure all hairs are removed. Tweezers are good for this. Cut cubes that are 2-1/2 by 2-1/2 inches and tie with fresh straw or kitchen string. Blanch in boiling water for 2 minutes; drain.
In a heavy pot big enough to hold the pork in a single layer, skin-side up, combine the pork packets, sugar, fresh aromatics and dried spices. Pour in enough rice wine to come up two-thirds on the sides of the pork, then add enough stock or water to just cover the skin. Drizzle in soy sauce.
Bring to a gentle simmer, reduce heat until the liquid ripples with a bare shiver, cover tightly and then leave the kitchen for a few hours. Stay close, though, to check that the liquid never boils. Taste one or twice to adjust sweet and salty flavors, but otherwise, it's a matter of trusting the effects of time and moisture on the pork and its flavorings. I like to float a round of parchment paper on the surface of the liquid to help cover the meat and fat evenly. If you're in a hurry, you can stop the cooking at 1 1/2 hours, but it won't be as good as when you can wait for 4 hours.
Remove the pan from the heat and let cool in its liquid. For the best results, I like to refrigerate overnight to remove excess fat that floats to the top. If done well, though, you'll be surprised by how little fat comes off.
Set up a steamer over your wok, or place a shallow dish in a large pot. Arrange the pork in a bowl or deep platter with its liquid, which after refrigerating has become lovely pork aspic. Steam for one hour.
Serve the pork cubes in small, individual bowls with the sauce spooned over and accompanied with lots of white rice.