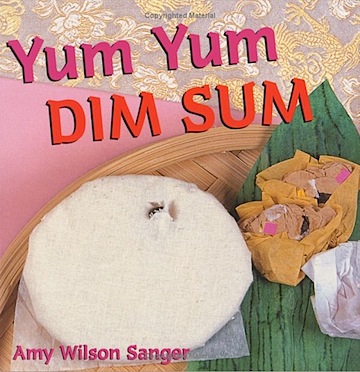 From Tricycle Press, that little imprint of our very own Berkeley-based Ten Speed Press, comes the World Snack Series, a cheerful set of children's board books about sweet and savory treats enjoyed around the world.
Author and illustrator Amy Wilson Sanger provides both the books' sing-song text and the artful, colorful sculptures that grace their pages. Adults and children alike will love the parade of scrumptious snacks: cha siu bao, bhel puri, tamales, hamentaschen, little polpetini, and even temaki with uni roe. One of my favorite lines, from Yum Yum Dim Sum, sent me straight to the closest teahouse: "Why, oh why, my little sui mai, why do I love you so?"
Sanger's sculptures are exquisitely detailed yet retain magic and imagination. Flour on the handle of the pasta roller? Check. Translucent beads of flying fish roe? Check. Little snips of tree mushrooms in the dumpling filling? Check. Hand-stitched tofu? Of course. Occasional beans and sesame seeds cross the pages to add real-life dimension, but for the most part, Sanger depends on the transformation of paper and cloth to create amazingly mouth-watering renditions of favorite foods.
I have four of the six titles published so far, and though I keep promising myself that I'll hand them off soon to worthy tots, I must confess they're still in my possession. They were supposed to go into the emergency gift box—yes, my friends' kids' birthdays have been accruing at a startling rate—but I have a feeling that these books are heading soon to one of my own shelves. I'm especially looking forward to the seventh in the series, Chaat and Sweets, that will be released later this spring (May 2008).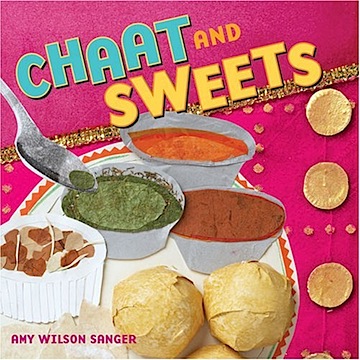 What appeals to me, as the "California aunt" in my family, is the matter-of-fact approach to such a widely diverse table. There's an emphasis on foods that one might find in take-out and at restaurants, particularly noticeable in First Book of Sushi and Hola Jalapeno. Still, this series as a whole stands head and shoulders above other multi-culti children's books about the world of food. There's no preachy agenda between the lines, and dishes aren't presented as the newly discovered, unfamiliar foods of other families. (Read Everybody Cooks Rice for a well-intentioned, first-generation example of both of these shortcomings.)
The back covers of most of the books in the World Snack Series provide helpful pronunciation glossaries for parents who may not have grown up tying tamales or rolling maki themselves. While some may roll their eyes at the thought of cultivating pint-sized gourmands—with miso in their sippy cups and salsa on their bibs—I for one consider this another wonderful step forward in the long, pot-holed road to incorporating international flavors with neither condescension nor wide-eyed wonder.