With SFIAAF 2008 in full swing, I've managed to munch popcorn with yeast for dinner more times than I care to admit during the past few days. And with another week of films ahead, it looks like I'm going to need to restock my supply of dental floss.
Fortunately, it's been worth it. Over the weekend, two titles that food and film lovers should add to their list were screened to sold-out crowds.
THE KILLING OF A CHINESE COOKIE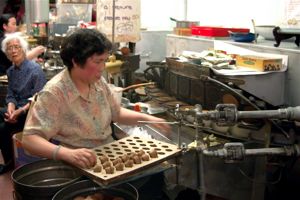 Who among us can resist opening a fortune cookie? No matter how jaded or snobby, no matter how much you may hate that dry, tasteless joke of a dessert that sits on your bill after a meal at the Golden Imperial Jade Wok Garden, I dare you to leave behind, unopened and unread, that little strip of paper and its peek into your future.

Like many things we touch in daily life, the beginnings of the humble fortune cookie are murky, but in his documentary, The Killing of a Chinese Cookie, director Derek Shimoda doggedly follows the complex maze of historic claims and counterclaims. Best of all, he collects the amazing stories of thoroughly lovable individuals. Third-generation confectioners and visual artists, judges and lawyers, historians and entrepreneurs, master chefs and hack writers–everyone has an opinion about the fortune cookie. Among the highlights are recollections of the mock trial held in 1983 at the San Francisco Court of Historical Review. Instead of settling the dispute, though, the arguments seemed to have only stirred up the controversy even more.
More recently, The New York Times covered the long-standing debate in a feature about the origins of the ubiquitous cookie. Among the many representing Northern California's interests are the descendants of Suyeichi Okamura, who in 1906 opened the Benkyodo Company, a confectionary in San Francisco Japantown where you can still buy handmade moochi, sembei and other traditional sweets.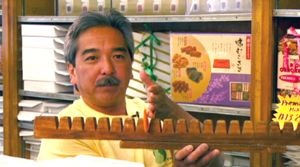 One of the Suyeichi Okamura's grandsons shows how hot cookies were once slipped into this wooden rack to cool slightly before a fortune was hidden within its crisp folds.
I can't remember the last time I laughed so much during a documentary while learning about the secrets of the past. With great affection, Shimoda tracks the cookie's influence from Japan's sembei treats to Golden Gate Park's Japanese Tea Garden, though World War II and the rise of Chinatown restaurants, to erotic art and lucky lottery numbers. I won't reveal any more about the film or the cookie's history, since I highly recommend this film. The fun of it will be in watching the story unfold for yourself.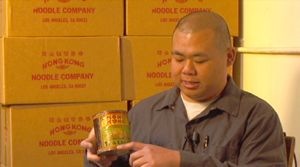 A manager at a Los Angeles factory showing an old tin of fortune cookies that he's resisted opening for posterity's sake.
The Killing of a Chinese Cookie
Directed by Derek Shimoda
Sunday, March 23
12:00 Noon
Camera Cinemas 12 Downtown
201 South Second Street
San Jose, CA 95113
(408) 998-3300
You can still buy tickets for this weekend's screening of the film at San Jose's Camera Cinemas 12. Until then, you can read the memorable fortunes submitted by NTY readers.
I'M A CYBORG, BUT THAT'S OKAY
Many of us have been waiting to see Park Chan-Wook's latest film on the big screen. If you've survived his infamous films, Oldboy and Sympathy for Lady Vengeance, then you'll already know that Park's work is not for everyone. But those who love his intense, over-the-top vision or who can't get enough of Korea's boundary-breaking films, his latest should not be missed.
I'm a Cyborg, But That's Okay reveals a new tack in his filmmaking: romantic comedy. In Park's world, though, this means telling the story of how two psychotics in an insane asylum find love across the distance of alternative realities, group therapy and padded rooms.
Im Su-jeong plays Young-goon, a pale and skittish young woman who refuses to swallow even a single grain of rice, since cyborgs like her cannot digest food. She licks batteries to help recharge her energy, talks to vending machines and flickering lights, and mourns the loss of her daikon-nibbling grandmother. Superstar singer Rain plays a scruffy kleptomaniac, Il-sun, who invents and (in one of my favorite scenes in the film) installs a tiny machine called the Rice Megatron–with lifetime service guaranteed–inside Young-goon to help her survive the rigors of reality.
Any further attempt to explain the plot or introduce the cast of characters will fail miserably.
Viewers who nearly died from cuteness overdose during Jean-Pierre Jeunet's Le Fabuleux destin d'Amélie Poulain(Amelie) or Michel Gondry's La Science des Rêves(The Science of Sleep) might think twice about seeing this film. You'll find a bit of relief from romantic sweetness during a few crazed killer-bot scenes, but don't expect the endless blood or deep anger of Park's earlier films.
I'm a Cyborg is the ultimate film, however, for fans of surrealism on the screen, well-intentioned massacres, hope flickering in a chaotic world, and uncertain non-endings.