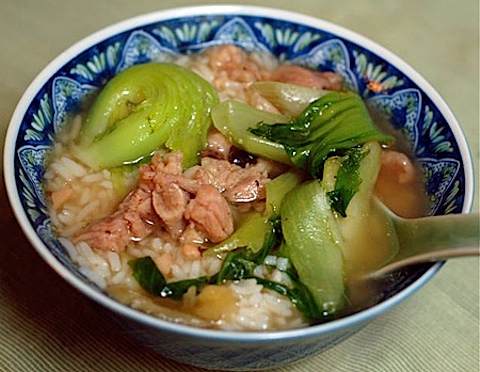 Sometimes, when it's cold outside and you're bundled in bed incapable of cooking and yet you need some food that feels and tastes homemade, but your mom is maybe 1,500 hundred miles away, it's time for the smart shortcuts.
Sure, the first can of chicken and stars brings back fond memories, but by the tenth or twelfth, even after heretical adulterization with dandelion greens or hot sauce, that bowl of comfort starts tasting rather thin. You've finished that delicious chili dropped off by a friend and your loved one is in meetings all day. Driving a stick shift up hills is most definitely beyond your abilities, assuming you even get past peeling off your flannel nightgown and navigating the laces on your shoes.
That's when you call for an order of pai gwat, those savory little tidbits of pork spareribs that dim sum houses and any decent, neighborhood Cantonese restaurant list on their menus. Then you dig around in your vegetable bin for any possible hint of vegetables, preferably a not too wilted head of mustard greens or a bunch of watercress or even, in desperate times, a well-rinsed bag of baby spinach already past its prime.
You still have to open a can: chicken broth. Then all you need is a spoon to stir it all together and bring the savory tidbits of goodness to your lips.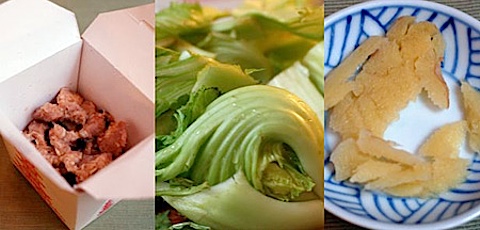 Pork Sparerib and Mustard Green Soup
If you're feeling healthy and motivated, you can track down a butcher who will cut spareribs into little one-inch pieces. Simmer them for 40 minutes in water flavored with a bit of dry sherry, salt, pepper and ginger to make your own soup base. Or you can just pick up the phone.
Ingredients:
1 order of take-out pai gwat (usually about 1 pound)
1 can good-quality chicken stock (about 1 1/2 cups)
Extra ginger, as much as you like, cut into slivers (optional)
Black pepper
A big pile of dark greens, such as mustard, turnip, watercress, spinach or escarole
Preparation:
Dump the pai gwat directly from its take-out box into a pot. Stir in the chicken stock, ginger, black pepper and a cup of water. Bring just to a boil, then reduce heat and simmer for about 15 minutes.
Meanwhile, wash the greens and tear them into large pieces that will fit onto your spoon. Add them to the pork and stock, and cook to desired tenderness. (The worse I'm feeling, the longer I tend to cook the greens, for that lovely silky texture and for the more rounded, mellow flavor that develops.)
Serve over rice in a big bowl.