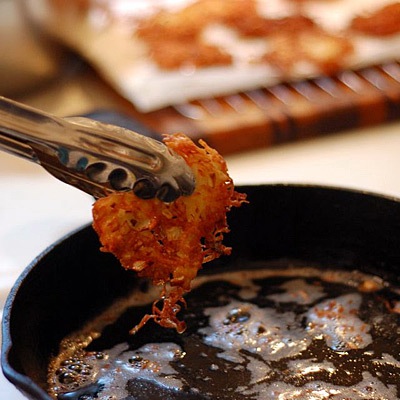 Although I didn't make it Saul's Deli this year for their annual Neverending Latke sidewalk fest, a lingering craving for piles of crispy potato cakes convinced my husband to brave the task of grating and frying.
He more or less followed a straightforward recipe from Gourmet and managed to deliver, with his first try, a most excellent feast. Some crème fraiche, homemade applesauce and leftover oil from donut frying may have gilded the latkes, but they're so good, we don't really need much more than a plate or fork. Of course, some of us who hover around the cook right at the stove don't even need those.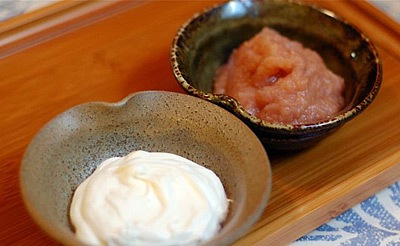 Everyone and their bubbe guard special tricks to making the best latkes in the world. Mine involves one of the most important tools in my kitchen: a beloved grater. My Bluffton Slaw Cutter, named for the Ohio village of just over 3,000 people where the company has been producing their crazy sharp graters since 1915, ensures thin, delicate, crisp shavings of potato. As anyone who works with good tools knows, the best ones are simply constructed, made to last decades and respond to each individual user. With the Bluffton grater, you can vary the length and thickness of your vegetable strips depending on the strength and angle you use.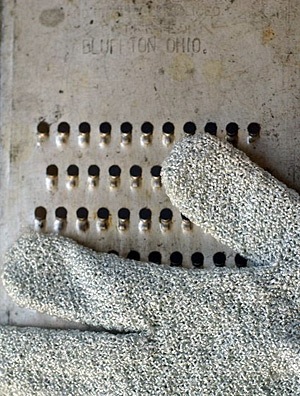 Mine is just over 20 years old. Nothing fancy, it's one thin but strong piece of metal with edges bent over a single length of thick-gauge wire that — oh beautiful simple tools! — curves to become a handle. It's long enough to lie over a bowl. And most importantly of all, a special process of hand-hammering the holes creates edges that become sharper the more you grate. Sorry, not holes, knives. Etched into the metal is a warning: "HOLD THE FINGERS SO THAT THEY DO NOT COME IN CONTACT WITH THE KNIVES."
You can find older versions of the grater at flea markets — look for "Bluffton, Ohio" or "Bluffton Slaw Cutter" somewhere on the face of it — or you can order a set your own to start sharpening with cabbage, carrots and potatoes. You can get all three for only $16.
My husband learned the hard way that my grater is indeed very sharp. The last batch of latkes have a bit of his skin and, maybe, a few drops of blood. (What are the laws of kashrut on that?) I reminded him to use my other secret tool for the best latkes ever: the glove.
It's an exfoliating glove from the Japanese dollar store. You can find them for a few bucks at any drugstore or bath shop. I store one next to the oyster knife for shucking, while the other sleeps next to my grater. They're thin and flexible enough to allow nimble maneuvering of even the most recalcitrant bivalve, and also strong and sturdy enough to deflect sharp edges. Easy to use, wash, dry and store, the gloves have helped me slash my Band-Aid budget by at least 75 percent. I suppose less scarring on my hands is one indirect benefit of repurposed beauty aids.
And if, after reading all of this, you're still wondering why I don't pull out my food processor to grate the latkes, then you apparently like yours mushy and bruised. Give me a hand-grated potato cake any day over cleaning potato from the crevices of a plastic processor lid.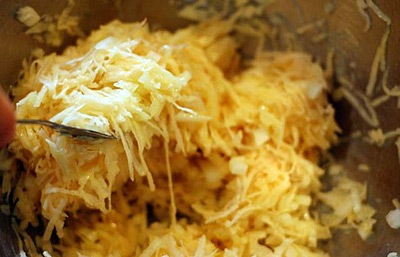 Latkes
Makes: Enough for 2 hungry or 4 overly modest eaters
Ingredients:
2 large potatoes, peeled
1 small onion, diced small
2 eggs, lightly beaten
Salt to taste
Pure olive oil or peanut oil
Crème fraiche and applesauce
Preparation:
Grate potatoes into a bowl of water. Drain well and then spread in a thin layer on a clean kitchen towel. Roll up and then twist the towel to wring as much liquid as possible from the potato shreds.
Dry out the bowl and in it combine the potato, onion, egg and salt. Stir until evenly coated.
Heat 2 inches of oil in a wide, heavy pan over medium-high heat until it begins to shimmer. With a fork, form small rounds of the potato batter in a large spoon and then slip them into the hot fat. Continue shaping the latkes in the pan, if needed, with a fork. Cook until golden brown on both sides, 4 to 5 minutes per side.
If the cook is keeping guests out of the kitchen while cooking in a desperate attempt to shore up latke supplies, they can be kept warm in a low oven. Spread them on a rack placed over a sheet pan and place in a 250-degree oven.