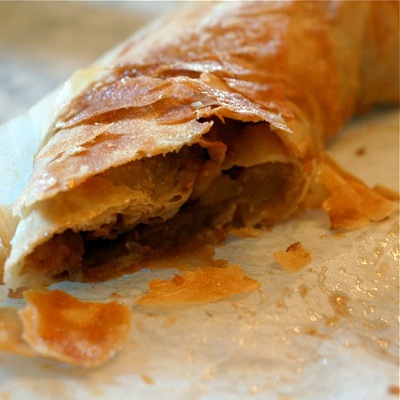 As a Californian trapped indoors by East Coast snow, I was running out of things to eat. It was way too cold to leave the house. A whole day stretched ahead, wide and open. If you have a TV, then you're set. If you don't…well, thank goodness for friends who happen to have a big dining room table, a pile of apples in the corner and enough curiosity to humor a restless house guest.
Because, to pass the time, I suggested a lesson on stretching strudel. My host, who once watched his grandfather from the Old World make the famously flaky pastry, had never tried it. We set about updating his memories to include an actual recipe. One day soon, he'll be able to pass along the tradition to his own little daughter when she's ready to tie on an apron.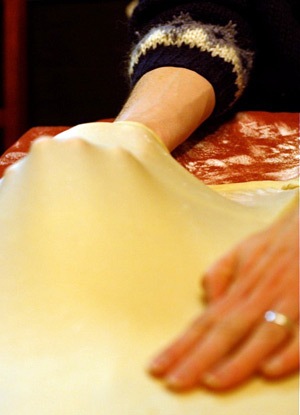 Austrian apfelstrudel is one of those desserts that require patience and practice more than rare ingredients or exacting recipes. It's a most astonishing experience to watch, let alone feel, the dough transform from a little round ball to a wide, silken sheet. For jaded cooks, it's a reminder of the simple magic of ingredients and the ingenuity of our ancestors.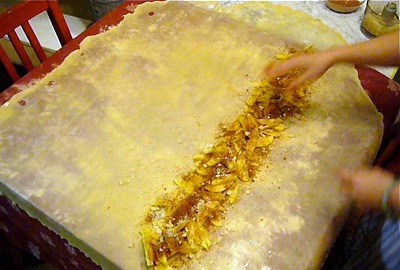 Sweeten the filling to your own palate. Grate on some lemon zest if you want. Include rum-soaked raisins, orange juice-soaked raisins, or no raisins at all. Don't forget crumbs from leftover bread, crackers or cake — they will absorb juices to keep the pastry's rolled layers light and crisp.
Whatever the flavors, be sure to give the dough plenty of time to rest. For a relaxed dough that will stretch very thin, knead well to develop the glutens enough to create an active network of reinforcing proteins, but afterward, let the dough rest several hours at room temperature or overnight in the fridge. Wrap well to prevent any drying on the dough's surface.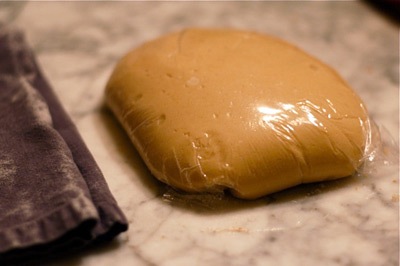 Some strudel recipes call for an egg in the dough; some don't. If this is your first time making strudel, include the egg to give your dough some softness and flexibility. Once you've mastered stretching the egg-based dough, you can then try your hand at an eggless version. It will be more difficult to stretch, but the end result will be noticeably flakier and lighter in a side-by-side comparison. Most folks won't notice, though.
Both versions are delicious. And both versions are equally fun and impressive to make with friends and family.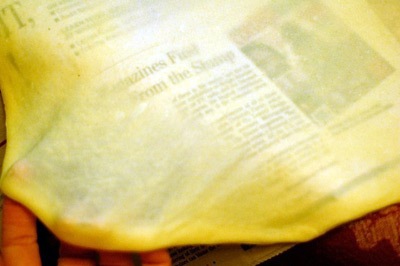 Apple Strudel
With just one afternoon of practice, you'll be able to stretch this recipe's dough to a large round that's supple enough to drape a four-foot table and thin enough to reveal the day's news.
Makes 12 servings
Ingredients:
Dough:
1 large egg
2 tablespoons vegetable oil or melted butter
1/2 teaspoon salt
3 cups all purpose flour
Filling:
4 to 5 tart apples, peeled, cored and thinly sliced
2 tablespoons fresh lemon juice
1/2 cup walnuts, chopped
1/4 cup raisins
1/4 cup brown sugar
1 teaspoon ground cinnamon
1/4 cup fresh cake or bread crumbs
1/2 cup butter, melted
Preparation:
To prepare the dough: Whisk the egg, oil or butter, and salt with about 3/4 cup cold water. Combine just enough of the liquid with the flour to make a soft dough. The dough should feel resilient but remain very slightly sticky. Drizzle in a tablespoon or more water if the dough is too ragged, or sprinkle in a small amount of flour if it is too moist and mushy. Knead for ten minutes until smooth, soft and warm. Form it into a smooth ball, wrap in plastic film, and let rest for at least 1 hour, preferably 4 hours.
To prepare the filling: Toss together the apple slices and lemon juice. Add the walnuts, raisins, sugar, and cinnamon and toss until evenly coated.
To assemble: Spread a table with a clean cloth and sprinkle evenly with flour. Place the dough in the center of the table, flatten with your palms into a 1-inch thick round, and then begin stretching the dough from the center to the edge. Use a combination of the sides of your hands and the tops of your knuckles to work the dough gently and evenly. Continue stretching the dough until you can see light through it. If there are occasional holes at the center, just pinch together to seal. Don't worry about holes or tears near the edge of the dough.
Brush the entire strudel dough evenly with butter. Sprinkle half the crumbs on one half of the dough, and on the same side arrange the apple filling in a long row close to the edge of the dough. Sprinkle with the remaining crumbs. Fold over the edge and roll the strudel into a log shape, using the cloth to help support and roll the pastry. Tuck in the sides and roll up completely, arranging the strudel seam side down.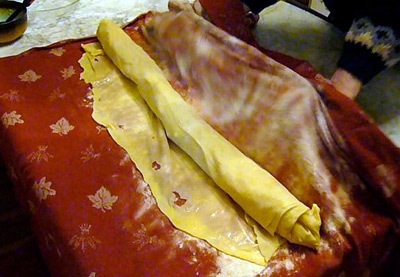 Transfer carefully to a buttered or parchment-lined baking sheet, curve the log into a crescent shape, if needed, to fit the roll onto the pan. Brush with butter and chill for at least 30 minutes (or overnight).
Preheat the oven to 350° F. Bake the strudel until golden brown, 30 to 40 minutes. Let cool slightly before cutting and serving.