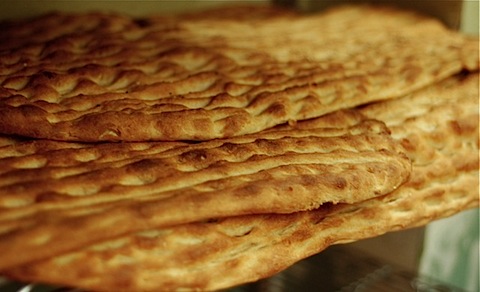 With winter's pantry almost empty and the green promise of Persian New Year just days away, it was time for a trip to Fremont's Little Kabul to stock up on Near/Middle/Far Eastern supplies.
It's a ritual now.
Get up early on a Saturday.
Clear out the back of the station wagon to make room for bread.
Call fellow eater-travelers to make sure they're awake.
Decide which bridge to cross this time around.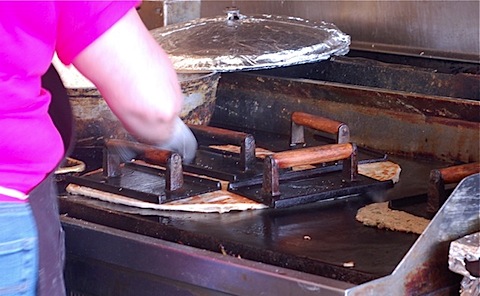 Stop first at De Afghanan Kabob House for slabs of potato-filled bolani, each huge round rolled and cooked to order under a battalion of bacon weights. Order juicy lamb chops and chicken kebabs along with a minced chapli patty. Load leftovers into car.
Shop at the farmers market for real cilantro, the kind with purple stems and small, sweet leaves and every thick, gnarly root intact. (The leaves become chutney; roots go into the freezer for making Thai curries.) Load produce into car.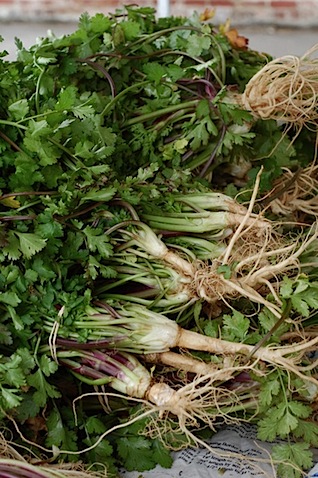 Head to Maiwand Market to watch their halal butchers cut goat after goat in half. Load meat into car.
A few steps away, watch the Maiwand bakers gently pat bread dough until each loaf is 3 feet long and 1 foot wide and half an inch thick. Order 4 loaves and watch them go into the oven. Chat with folks in line for 5 minutes. Claim my loaves, wrapped in paper torn from flour bags. Load bread into car.
While the bread cools, fanned out in the back of the car, continue shopping.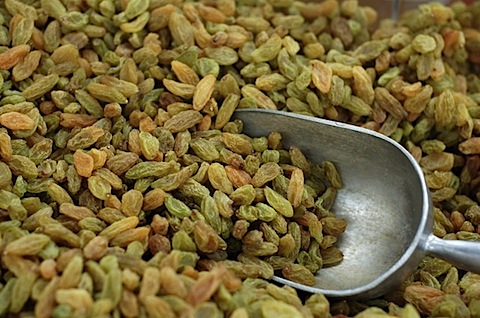 Throughout the day, other must-have foods will find their way into my bags — chewy sun-dried mulberries, sabzi herb mix (with mint, cilantro, leek and fenugreek leaves), flowery pussy willow water, gold-green raisins, whole dried limes or flaky butter cookies stuffed with dates. Thus does my pantry fill back up. Over the course of the next few months, I'll be able to enjoy the exquisite flavors of Afghan, Persian and Parsi cooking.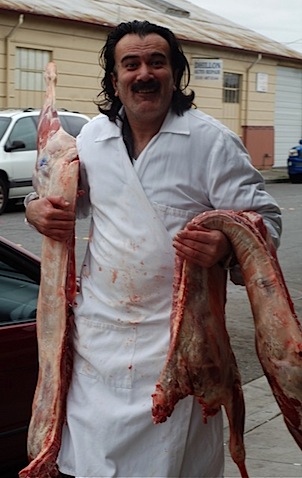 One corner of Maiwand holds neatly ranked bins filled with dried essentials: chickpeas, aged basmati, walnuts, almonds, sliced orange peel and bright-sour sumac berries. The opposite corner houses a halal butcher. You need a trunkful of lamb or goat? No problem. The butchers will even carry the carcasses to your car for you.
The heart of the market, though, is its bakery. Fresh loaves of nan afghani emerge every five minutes all day long, all week long. While modern deck ovens have replaced the clay tandoor, the bread retains its distinctively long, narrow slipper shape and its finger-rippled surface. A mixture of wheat flour and white flours gives the nan a nutty flavor yet tender bite, a perfect foil for savory kebabs and rich qormas.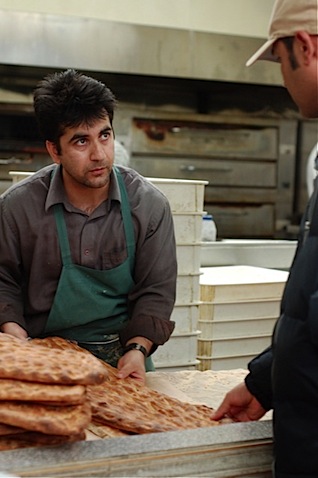 The bread freezes beautifully and warms to a crisp in a toaster oven within minutes. Along with a plop of full-fat yogurt or some fresh cheese, that's about as easy as you can get for breakfast. If I'm in a savory mood, I'll drizzle the yogurt with cilantro chutney. If I'm feeling sweet, a smear of butter and raspberry jam makes the bread an excellent accompaniment to a cup of afternoon tea.
Or, if I've recently returned from a Fremont expedition, I'll eat the nan with heaping spoonfuls of khashk, a creamy, buttery, faintly caramelized fresh cheese magically thickened from the whey left behind in Middle Eastern cheesemaking. There's nothing else quite like khashk, and I've fallen completely, helplessly in love with it.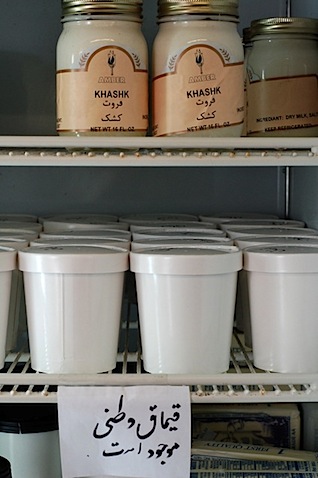 Maiwand offers a house-made version packed in cartons like ice cream. It's so good that I eat it straight from the container. There are less perishable, totally acceptable versions in jars, but if it's your first time, please do go for the homemade carton. And if you've made it all the way to Little Kabul, you might as well grab a jar of that lovely cilantro chutney by the register, too.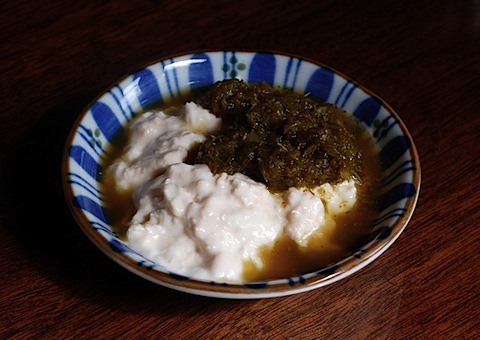 The best day to visit Maiwand is on a Saturday, especially during the spring and summer when the Centerville Farmers' Market across the street is in full swing. The bakers will be mixing, forming and baking bread throughout the day within full view, so you'll be able to watch up close a centuries-old tradition. On the weekends, expect to stand in line with families buying a week's worth of bread. A few of the older buyers insist on pinching the corner of each loaf to check its freshness. Some request no seeds; others ask for darker or lighter loaves. Most walk out with a stack of eight or more cradled against their chest.
Surely, contentment is an armful of bread still warm and fragrant from the oven.
Maiwand Market
37259 Fremont Blvd.
Fremont, CA 94536
(510) 796-3215
Map
De Afghanan Kabob House
37405 Fremont Blvd.
Fremont, CA 94536
(510) 745-9599
Map