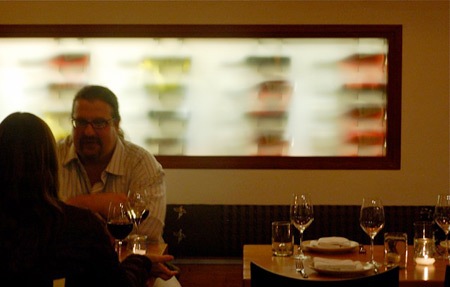 If you eat out and read blogs and live in the Bay Area, then you've surely heard your share about the doors opening soon at this shiny, new Noe Valley restaurant.
Perhaps you've even followed the saga, Chef Brett Emerson's wild ride from inspiration through daily exasperations and deep disappointment to — at last! — his very own kitchen.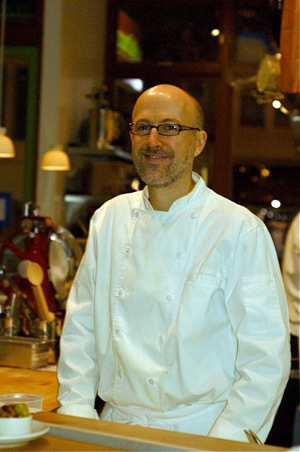 Chef Brett Emerson
Brett's ability to remain hopeful and focused, even through the darkest days of building a restaurant, exhilarates all of us who nurse big, dangerous dreams, the kind that frighten away even those who love us and that chew into us slowly, tenderly, insistently.
This is not a review — too early. This is not a profile — I'm not objective enough.
Rather, this is an open thank you note to a friend and colleague for sharing his passion with us. It is a letter of gratitude to every chef and restaurateur who takes on the worry, the stress, the pain. To cooks who sweat on the hot line. To servers who balance oversized plates and placate the oversized egos. To all the small business owners who, together, shoulder the weight of our economy.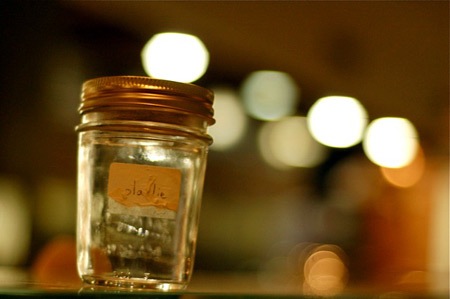 Traces of past summers and lingering flavors.
I first met Brett nearly fifteen years ago at cooking school. Tall and angular, quiet yet warm, he aced our spice identification test — the only one in our class who recognized whole fenugreek seeds — and since then, we've followed each other's meanderings through one kitchen after another.
Two summers ago I was picking fat, juicy olallie berries with him as he faced a very long and rocky road of financing, construction, marketing and menu planning. His vision wouldn't allow him to take the easy path. This week I watched him, in his pristine chef whites directing his own kitchen staff, with Elan welcoming guests and pouring wine, and I realized, yes — anything is possible.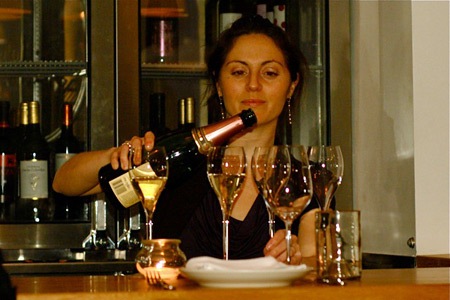 Elan Drucker pours one of their well-selected Spanish wines.
Please support your local restaurants, all those small businesses that are the true gems of San Francisco's food world. Yes, chains may offer you a free this or that to entice you in. Yes, eateries that use expensive reservation systems are so convenient. Yes, established kitchens are safe. Yes, parking in certain neighborhoods can be a nightmare. And yes, even the best can stumble from time to time.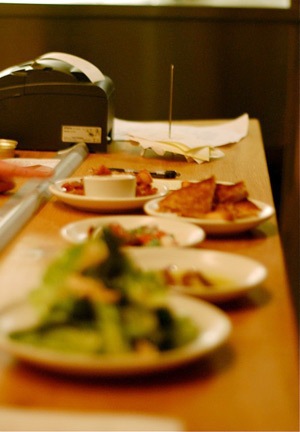 Contigo's dishes are simple and comfortable, yet packed with the big flavors of Spain.
But remember that they're just like our friends, with their moods and quirks and bad hair days. We'd be poor without their generosity, unhappy without their love. Behind these businesses are individuals, something we forget now as we Google and Yelp our way to a meal. Let's try to maintain the whole — ideas and people, personal risks and community spirit — and not reduce eating to half-stars and sassy sniping.
It'll be crazy for a few weeks at Contigo, as everything from the plumbing to the food deliveries settles into workaday smoothness. But talk to any chef and you'll know that every morning brings surprises. It's never easy feeding a roomful of strangers.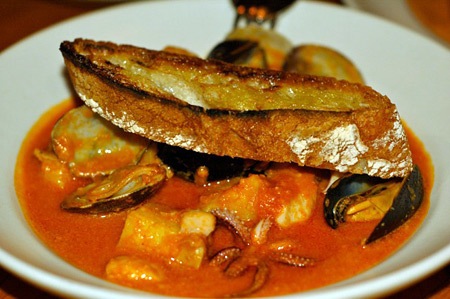 Both the menu and wine list draw from the Iberian Peninsula, with a focus on the flavors of Barcelona.
So, head over to Contigo and introduce yourself to Brett. He'll be standing there inches from you. Small restaurants of this caliber and individuality are becoming increasingly rare, with investment groups opening one "concept" after another and chef/owners long ago an endangered species. Right now, there's no better place for experiencing the excitement of dreams achieved.
Contigo
1320 Castro Street (at 24th)
San Francisco, CA 94114
(415) 285-0250
Map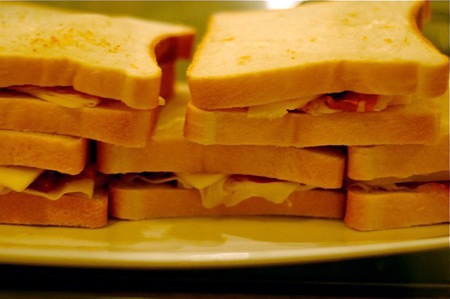 Jamon waiting to be grilled.