Sunday, August 19th, 2007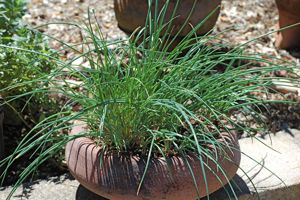 The pot of chives was waiting for me in Moraga. Little did I know there was an entire afternoon of wonder in store for me when I went to pick it up.
With just his hands, a shovel and a wheelbarrow, 79-year old Ze'ev Vered has shaped seven terraces of gardens and orchards. Trees bearing pistachio, quince and pomegranate push up against the golden hills. A 6-foot cyclone fence that encircles his garden, to deter the insistent deer, has long been covered with the rambling vines of eight different varieties of grapes. The paths between each hand-weeded bed switch back several times, a steep trail that leads from one beautiful, delicious plant to another.