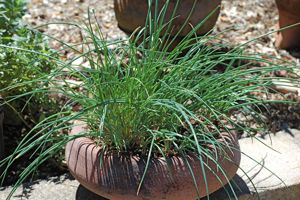 The pot of chives was waiting for me in Moraga. Little did I know there was an entire afternoon of wonder in store for me when I went to pick it up.
With just his hands, a shovel and a wheelbarrow, 79-year old Ze'ev Vered has shaped seven terraces of gardens and orchards. Trees bearing pistachio, quince and pomegranate push up against the golden hills. A 6-foot cyclone fence that encircles his garden, to deter the insistent deer, has long been covered with the rambling vines of eight different varieties of grapes. The paths between each hand-weeded bed switch back several times, a steep trail that leads from one beautiful, delicious plant to another.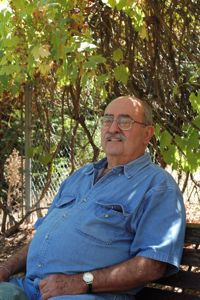 Raised on an Israeli farm and then trained in forestry, Vered landed four decades ago in the Bay Area. He settled into insurance work to help raise his family, but much of his free time was spent building up his garden and cooking – he handled all the savory food while his wife took care of the sweets. When he retired, Vered finally launched a business that expressed his passion: Herb Gardens by Ze'ev. He specializes in culinary herbs, helping his customers grow unique gardens that reflect their favorite cuisines, from my little chive pot to complex, professionally tended installations.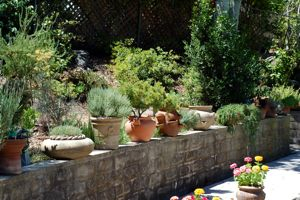 Vered treated me to a lunch: Salad Caprese with his own sun-warmed tomatoes and a lovely barley soup made from the herb-stuffed carcass of a spit-roasted turkey. After I'd had enough to eat, he walked me slowly through his garden. Here are some highlights from my amazing tour, sprinkled lightly with Vered's salty jokes and stories: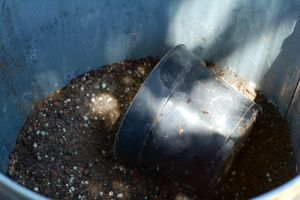 After many years, Vered has perfected his own secret blend of soil. For example, powdered dolomite lime sweetens the mix to provide the basic pH that culinary herbs prefer.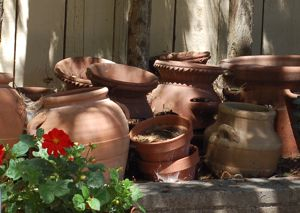 Whenever his wife and he traveled to Mexico, they'd bring back a few pots. If you find one you like, he'll sell it to you.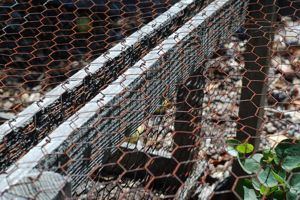 Vered sequesters his newly potted plants inside wire cages for a week to protect them from squirrels, who love to dig up the plants. His plants all have well-established root systems, and as soon as you get your herb pot home, you can begin harvesting and cooking.
At one of his lectures, a skeptic kept asking Vered, "Are you sure that your plants are organic?" He answered patiently until the third time, when he couldn't help adding, "Yes, these plants are organic. And not only that, they're orgasmic — I get a real charge out of growing them!"

Welcoming visitors at the entrance to his herb garden are pots of low-spreading, tiny-leafed Corsican mint.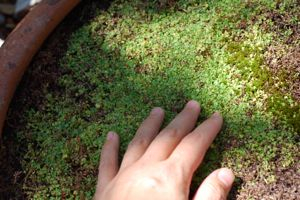 The herb invites you to caress its velvety surface and then imbues your hand with its fresh, summery perfume. Someday, I'm going to have a garden path with Corsican mint growing in the cracks between stones.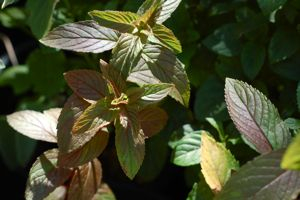 The leaves of this slightly bronzed peppermint has a sharp flavor that lingers long. I could feel its menthol in my sinuses.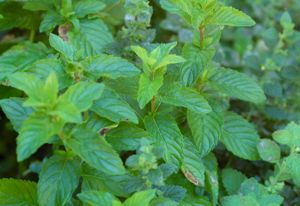 Spearmint has a softer, rounder flavor. Growing in this large patch is what Vered calls "Safeway mint."
A much-lauded celebrity chef, who will here remain nameless, needed fresh mint for his cooking show. Vered gets a call from the chef's assistant. "What kind of mint does he need?" Vered asks, referring to the many varieties he grows. A pause on the phone. "You know, the Safeway kind."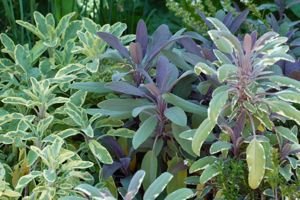 Three sages hold court along his retaining wall.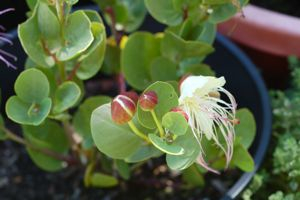 For the first time, I came face to face with a fresh caper. If you don't pick and pickle the small bud, it opens into a beautiful white and pink-tinged blossom.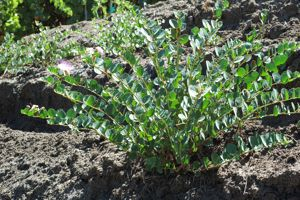 Recently planted caper bushes that Vered hopes will soon cascade down part of his hillside.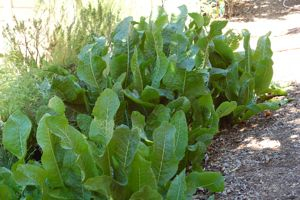 Enough horseradish to feed a small village. Vered likes using its leaves in salads before pulling up their roots and bottling his own sauces.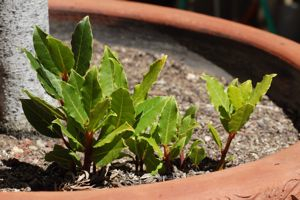 Mediterranean bay, known as true laurel, has a sweeter, less harsh flavor than California bay. Here, small plants spring up from a potted tree's crown roots.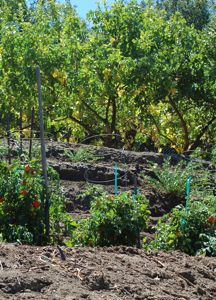 Tomatoes grow two levels down from his fruit and nut trees. Asked if he shares his fruits and vegetables with his neighbors, Vered says "Back when they used to be nice to me!"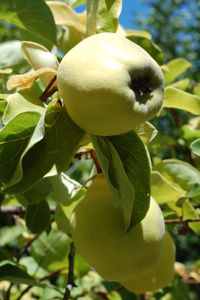 Golden quince with their soft, delicate fuzz.
At the top of one hill, just past the plum and pistachio trees, Vered placed a bench in the shade of grape vines. He can sit and gaze across the valley. I asked him if he sat here with his wife, while she was still alive, and he smiled mischievously. "Oh yes…and sometimes we held hands."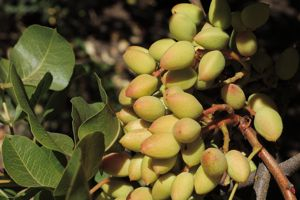 Pistachio nuts just beginning to blush.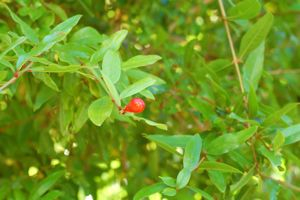 Over the next several months, this tiny bud will flower, fruit and ripen into a juicy pomegranate.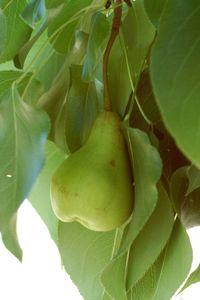 Vered grows a rare variety of Asian pear, the only sand pear that resembles its European cousin in shape.Vered picked some tomatoes and plums for me to take home, and then asked if I wanted to taste some of his green tomato pickles. Uh, yes, I LOVE green tomato pickles!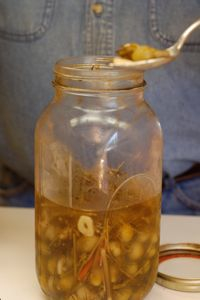 The tiny, still green cherry tomatoes are tart, a nice pick-me-up after the hot afternoon sun. They're preserved in his own special brine.To a colleague who asks for the recipe to his kosher dill pickles: "Well, first you cut the tip off each little cucumber…."
Herb Gardens by Ze'ev
Ze'ev Vered, M.S.
(925) 631-0199
P.O. Box 6486
Moraga, CA 94570