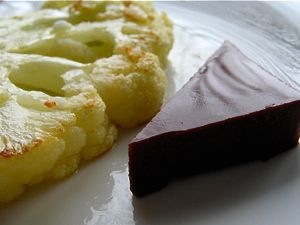 Blueberries and oysters? Chocolate and cauliflower? Blue cheese and rhubarb and pineapple?
If taste buds could cringe, then mine were recoiled into a wincing mess when I first learned about these flavor pairings. For those of you who have been eating at El Bulli or The Fat Duck or Alinea, this is all old news. For me, though, it was definitely an invitation to walk on the wild side.
To help wake up my outdated taste buds, my friend, Frankie, linked me up with Food for Design, where chemists and chefs and some overachieving web designers are putting together a provocative, highly entertaining website. With just a few minutes of clicking, creative and courageous cooks can find some very unusual food pairings.
Continue reading "Culinary Laboratory: Cooking by Chemistry"