With SFIAAF 2008 in full swing, I've managed to munch popcorn with yeast for dinner more times than I care to admit during the past few days. And with another week of films ahead, it looks like I'm going to need to restock my supply of dental floss.
Fortunately, it's been worth it. Over the weekend, two titles that food and film lovers should add to their list were screened to sold-out crowds.
THE KILLING OF A CHINESE COOKIE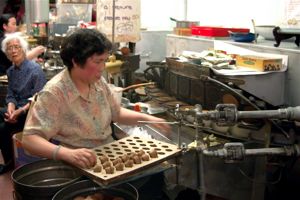 Who among us can resist opening a fortune cookie? No matter how jaded or snobby, no matter how much you may hate that dry, tasteless joke of a dessert that sits on your bill after a meal at the Golden Imperial Jade Wok Garden, I dare you to leave behind, unopened and unread, that little strip of paper and its peek into your future.
Continue reading "Fortune Cookies and Starving Cyborgs: Sweetness on Film"